Top drama serials on Geo Entertainment this year
– THE NEWS INTERNATIONAL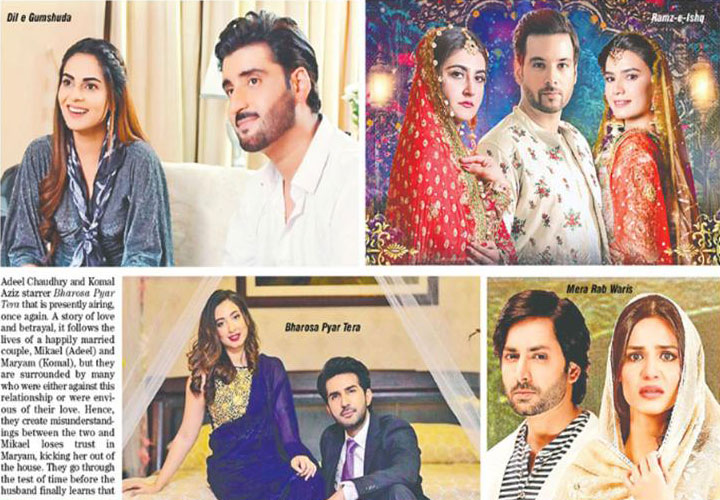 2019 was a big year for Geo Entertainment as multiple dramas that aired on the channel consistently topped the ratings chart. In addition to dramas that aired on prime time, the channel ruled in other slots as well and set a benchmark. For the first time, dramas that aired five consecutive days a week (such as Dil e Gumshuda) became huge hits.
Instep lists five Geo dramas that went on to become viewers' favourite this year.
Dil e Gumshuda
Amar Khan, Hina Altaf, Agha Ali and Mirza Zain Baig starrer Dil e Gumshuda that recently came to an end was an interesting watch with several twists and turns. It was a love story revolving around two couples, who initially thought they are compatible but eventually, ended up parting ways. The soap opera aired five days a week and received immense praise.
Amar essayed a grey character, Alizey, as opposed to playing a submissive or evil woman; her character had shades that made it believable as well as relatable. She garnered appreciation for her performance as well as her sense of style in the drama. Written by Saira Arif and directed by Shaqielle Khan, Dil e Gumshuda was produced by Abdullah Kadwani and Asad Qureshi under their production banner 7th Sky Entertainment.
Alif
One of the most talked about ongoing dramas, Alif has caught viewers' attention for its unique subject and powerful performances. Featuring Sajal Aly, Hamza Ali Abbasi, Kubra Khan, Ahsan Khan and Manzar Sehbai in significant roles, the drama has religious connotations; an exploration of spirituality and how insignificant everything else appears to be. Written by Umera Ahmed and directed by Haseeb Hasan, Alif has initiated conversation around the subject of spirituality, the world of show business and other worldly struggles people are mostly entangled in. The subject(s), dialogues, treatment and, above all, performances make it a must-watch this season.
Bharosa Pyar Tera
Another drama serial that consistently ruled the numbers game this year is Adeel Chaudhry and Komal Aziz starrer Bharosa Pyar Tera that is presently airing, once again. A story of love and betrayal, it follows the lives of a happily married couple, Mikael (Adeel) and Maryam (Komal), but they are surrounded by many who were either against this relationship or were envious of their love. Hence, they create misunderstandings between the two and Mikael loses trust in Maryam, kicking her out of the house. They go through the test of time before the husband finally learns that his wife wasn't cheating on him with her university friend. If you didn't catch the drama when it aired the first time, you can watch it now.
Ramz-e-Ishq
Presently airing on Geo Entertainment, Ramz e Ishq features Mikaal Zulfiqar, Hiba Bukhari, Kiran Haq and Gohar Rasheed in prominent roles. Written by Misbah Nosheen and directed by Siraj ul Haq, the series follows the life of Roshni (Hiba), who parts ways with her love interest Rayan (Mikaal), for her family's happiness and marries Umar (Gohar) instead. After Umar divorces her to marry the love of his life, Rayan marries Roshni without telling anyone. Rayan's cousin Raania (Kiran) is in love with him and surrendering to family pressure, Rayan marries her too. In the recent episodes, Umar is back and kidnaps Roshni while Rayan and Raania's wedding festivities are going on. What the future holds in store for Roshni and Rayan's relationship, we'll have to wait and see.
Read More...