The Icon interview: 'We Surround Ourselves with People Who Don't Lie'
– DAWN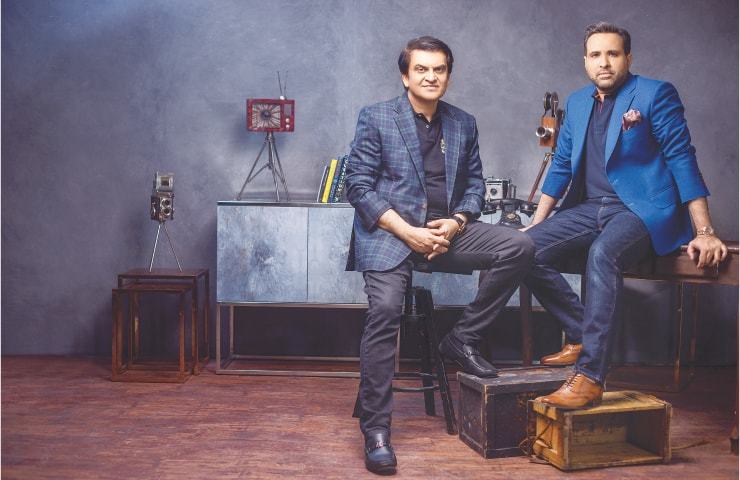 Equanimity. It's a strange word to think of, especially in the midst of an exotic chicken dinner. But there it is. On the tip of my tongue, on the verge of being blurted out in the middle of a dinner at producer Abdullah Kadwani's place.
The word — meaning composure or one's level of self-control — in a way fits Kadwani and his company 7th Sky Entertainment's persona. Also, the dinner is somewhat of a privilege, I think, because Kadwani and Asad Qureshi, producers of long-running, ratings-smashing productions, are somewhat elusive.
"The mystery [of their privacy] is sexy," someone close to them had once said to me.
A few decades ago, Kadwani began his acting career with the hit serial Chand Grehan. After belting out a few hits as an actor, Kadwani ventured into production, partnering with Humayun Saeed and Asad Qureshi in creating 7th Sky Entertainment, now one of the biggest producers of quality television in Pakistan.
The production duo of Abdullah Kadwani and Asad Qureshi are a force to reckon with when it comes to entertainment television. They may have been super successful in financial terms, but it's the creative challenge that really spurs them on
Qureshi, whose billing sits right next to Kadwani's in posters today, as it turns out, is a perceptive producer with an eye for characters and story development. A graduate of the Institute of Business Management (IoBM) in Karachi, the University of Southern California and IESE Business School, Qureshi had honed his experience in Indus Vision before joining 7th Sky.
Kadwani, apart from the work one had seen of his on television, I also knew about through Media Max — a powerhouse media company that once-upon-a-time managed ARY Digital's ad sales back in its heyday.
Kadwani was a hard man to get a hold of even then. Much more notorious than that was his reputation. People either loved working with him or hated his guts. So, imagine my surprise when the Pakistani film Chambaili (which he produced) came out in 2013 and I encountered someone who didn't quite fit in with the perception I had been given.
Respectable, sensible, business-minded, Kadwani is a man who loves his family and his work with equal unflinching dedication. To him (and Qureshi, whom I have grown quite fond of) moral and family values are at the centre of their every creative decision. They appear quite different from others in the entertainment business.
As I sit in front of Kadwani and Qureshi at the former's place, I notice the room is artfully yet uncomplicatedly decorated with huge mirrors at two ends of the walls, to give extra depth and dimension to the environment. I sense not much has changed since the first time we spoke. Kadwani still explains things with a certain down-to-earth candidness.
After finishing dinner, we have to return to the conversation that has been intermittently going on for quite a few days. Having taken over Geo Entertainment's management in 2018, after the networks' massive ratings decline, 7th Sky has been belting out successive hits. Their first big hit immediately after taking over was Khaani, which, incidentally, was the last drama series picked up by Netflix.
"It was not an easy task," Kadwani tells Icon. He refers to Geo owner Mir Ibrahim as a part of a "triangle" with Qureshi and himself, and credits him for being a "tower of trust and support", since the duo were making radical changes to the channel.
Producing as many as 14 series in a single go, their production house — with productions from independent producers — is now single handedly shepherding the channel into a success story.
Just how big of a lead does 7th Sky's production have over the other channels, I ask Kadwani, who I often see scribbling notes when we begin talking (the notetaking is a practice he and Qureshi have attuned themselves to over the years; they're big into data collection). He promptly shares detailed figures via WhatsApp, and the difference is substantial.
Between January 1 and December 31, 2020, Geo has thousands of units of GRPs (Gross Rating Points) over its competitors across various studies (i.e. in Pak Urban 24 Hours' ratings, they stood at 64,151, while ARY was at 59,728, and Hum at 32,191; in Pak Urban Prime Time, they had 34,943, over 27,993 for ARY and 15,902 for Hum, and so on). Between January to March of this year, their ratings continue to swell at 14,940 GRPs in the 24 Hours' calculation (ARY at 12,200, and Hum at 5,684), with a Prime Time GRPs of 8,245 (ARY at 5,488, Hum at 2,705).
As my head swoons while taking in these numbers, the phone pings with more updates following. The excel sheet-styled data for their three recent hits —Qayamat, Fitoor and Khuda Aur Mohabbat (Season 3) — only confirms the obvious.
The Ahsan Khan starrer Qayamat's first episode scored a rating of 9.77 over the competitors' 6.59 and 1.53, continuing to dominate the slot right until its 25th episode, which aired on March 31. Fitoor, starring Faysal Quraishi, has a similar story, scoring between 8.54 and 11.1 during its run until its 15th episode on April 1.
Khuda Aur Mohabbat, whose trailer I saw weeks before it came out, was a whirlwind success at 11.73; its lowest rating, 8.38, is often considered to be a benchmark for any serial. One doesn't have to research much to know that the serial is a hit. On YouTube, its 7th episode has over 22 million views.
These are some pretty big numbers I remark to Qureshi, who explains that the ratings are just the end result of a very long creative process.
"I don't think we develop and produce with the intention of scoring ratings on select productions. We spend as much time, effort and dedication on a drama that airs at 7 o'clock at night as the one that airs at the 8 or 9 o'clock prime time slots," Qureshi says, taking a breather.
"We've always referred to 7th Sky as an entertainment company driven by ideas. We actually feel offended when people just call us a production company," he adds. "It's not as easy as one thinks. We have to feel the audiences' need for the kind of shows they want, respect the value system and keep the productions within censorship guidelines."
At the end of the day, Qureshi explains, the productions should be accessible to laymen, and would give them reasons to talk about them. "This matters the most. With every idea we develop, we try to touch those points that are prevalent in our society. The people in our dramas are all around us, be it Ahsan Khan's character Rashid from Qayamat or Fariya and Rafiya (Saboor Aly, Zubab Rana) from Fitrat.
"Whether we like it or not, the audiences want these stories to be told. These are our stories. Our stories aren't science fiction fables where aliens invade spaceships. Our stories are about realistic problems such as forced marriages, workplace harassment and emotional stresses, as well as social pressures that all normal families go through."
"We think it's unfair to think that we make dramas [only] for women," Kadwani interjects. "I think this is our secret. There are many men that applaud Khuda Aur Mohabbat," he tells me.
"My father-in-law watches Fitoor," Qureshi cuts in. "We make dramas for entertainment. I think this myth of targeting one sex over another — to make shows for one particular type of audience — traps us, and it keeps us from being innovative."
There is a deep-rooted connection between Qureshi and Kadwani. At times it's a wonder, seeing the clarity of vision between the two.
"People pen ideas well on paper, or discuss them quite easily in meetings. Abdullah and I believe that ideas are always good on paper, but it's their execution that really matters. It's that passion that keeps us on our feet. It keeps us awake at night, it gives us nightmares when we feel we weren't able to deliver on what we set out to do," Qureshi says.
"For us, it's a continuous journey to deliver," Kadwani elaborates, citing their long work hours as the primary reason for their seclusion. "We just don't have the time. The amount of time we spent with each other and our team limits us from going anywhere. What little time we get is for our families."
"The sheer amount of work drains you. Fortunately for us, the thing that drains us also recharges us," Qureshi adds.
"The reason we stay grounded is that we surround ourselves with people who don't lie, whether from the field or otherwise," Kadwani explains further. "They don't trap us in that bubble, where we're led to believe that everything we do is good."
Unlike other producers, these two are involved in the minutest of things. From the development of ideas, to screenplays, casting, colour palettes and production design, right down to the type of spectacles an artist is wearing, they have a say in everything. At times they exert a suffocating level of control over their productions, overseeing the post-production of all their shows from the edit onwards. The director only has hands-on involvement until the shoot is wrapped.
Is it true that, at times, you are too controlling of productions, I query.
"We should be. We're proud of it," Kadwani says in a calm, matter-of-fact manner. "Abdullah Kadwani or Asad Qureshi don't have egos. If we don't have egos, then why should anyone else?" Qureshi replies.
"We don't buy ready-made scripts from writers," he elaborates. "We develop our own content, and that takes months and constant rewrites. Some writers consider this a painstaking process."
I'm well aware of that, amongst other things, I tell them. Often writers finish and submit drafts to networks on the fly, without much rewrite; very few spend months refining the stories.
Kadwani tells me that Qureshi and he get into strong arguments during the development stage of their productions. The reasoning is always of logic. "Either I win you from my logic, or you win me by yours. There's no third way," Kadwani says.
There's also a rumour that some writers and directors don't get along with Qureshi and Kadwani — not that it bothers the duo.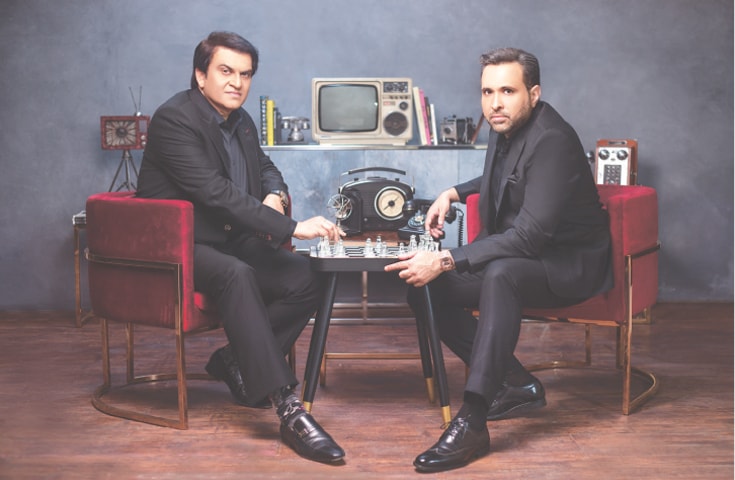 "There are two types of people in our boats. There are the ones who come aboard for a short time and disembark, or there are those who don't get off at all," Qureshi tells me.
"We are very ruthless in our work. People are shocked when they associate our personal nature with the way we work," he adds. "We're humble, God-fearing people by nature, but we're diligent and ferocious during work. We live for the audience's journey and it's all for the success of the project. If a parent is strict with their child that doesn't mean that the parent doesn't love him or her. Similarly, if you're asking the directors and actors to reshoot a scene for the sake of the story, you're not doing anything wrong."
"It's not about belittling anyone. Everything we do is for the betterment of our productions," Qureshi adds.
Even replacing actors during mid-production? I ask.
"Yes, at times, even that — not that we like to do it though," Kadwani clarifies.
Although he doesn't want to talk about it, Hira Mani's case, during the production of Mera Khuda Jaane gained quite a bit of notoriety. The story goes like this: the actress had been giving the production hell by constantly arriving late on set, amongst other things. When she was asked to appear in front of Kadwani and Qureshi to sort out her grievances, she carried on with an air of unprofessionalism. She was cast out of the serial, even though she had shot a bulk of it and, later, after a considerable push from the industry, only allowed to return on 7th Sky's terms.
"Well, at times you have to use a carrot, at times you have to use a stick," Qureshi tells me as we continue talking about their stern oversight.
Directors often still baulk at the idea. In fact, I've been witness to some exchanges where Kadwani has put his foot down to make sure that the project stayed true to its roots.
"We have a certain set of protocols that we diligently follow," Qureshi explains. "The chief of them is that everyone involved reads every episode in production. Mostly actors only read their scenes and have no idea what the other characters are about. Their main concerns, mostly, as I'm often told by people producing shows, is how they will look on the screen, irrespective of what their character is about, or how much they're getting paid, or whether they can slip away to do a commercial or two."
That, of course, doesn't happen at 7th Sky.
"You have to sacrifice a lot to stay true to your passion," Qureshi tells me.
Since they're riding high on the ratings, is there anything that scares them, I ask.
"We're scared that our passion doesn't ebb away," Kadwani tells me. "We don't worry about anything else. We pray to Allah Almighty that our passion sustains itself. That the trust and understanding Asad and I have, is always blessed by God.
"We stay away from petty things, the blame game. We hold ourselves accountable and make sure our system is transparent. If we're open, then we'd like everyone with us to be open as well. When at times we're told half-truths, or the bad aspects of someone, we ask to be told about the good of that person as well," he explains.
What is the one thing that they would change in the industry, I ask.
"Commitment levels and professionalism," says Kadwani. "I would like to eradicate unprofessionalism." It's a growing concern this writer has come across far too often from people producing content, I tell them.
There has to be dedication in what you do, Kadwani tells me.
"My journey started as a model, then it took me places. From being an actor, to producer, to media manager, to broadcaster, I've worn every cap. Alhamdolillah, whatever I've done, I've done with every ounce of passion at my disposal. Don't you think that I still don't get modelling or acting offers or that I cannot produce a play for myself? We don't do that. My first love is acting. The only reason I choose not to do so is because my focus and commitment as a producer doesn't allow me the liberty to pursue roles as an actor."
Kadwani tells me that he has several serials written for himself that are stacked away; some of them he's given away to other actors. As an actor, he plans to make a comeback in the next two years though, he says. Until then, the only thing occupying his and Qureshi's time are the serials they're producing. It's a tall order, producing the bulk of an entertainment channels' content by themselves.
"One should have long-term greed. Short-term greed is destructive," Qureshi tells me.
"Give us creative stress, we will love it. Give us challenges to overcome, and we'll love it," Kadwani says. "Nothing else matters."
Read More...