Tere Bin
– MAG THE WEEKLY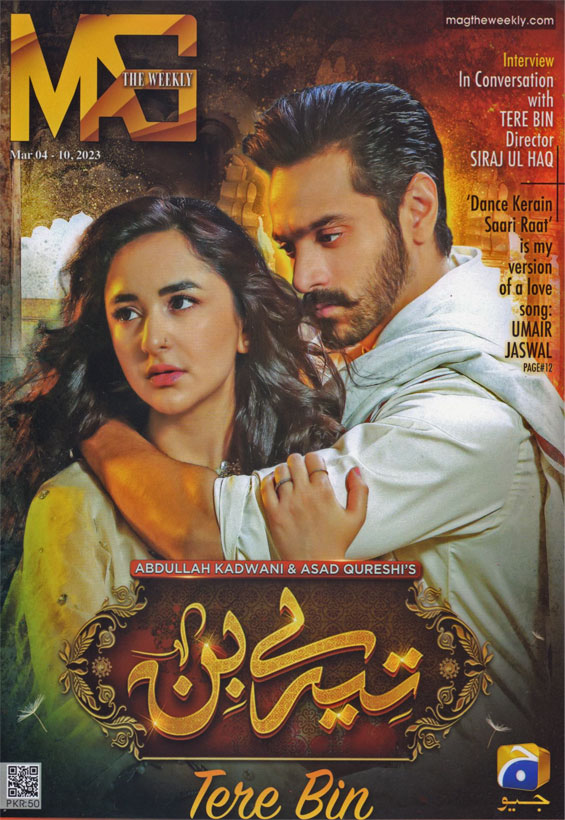 Dil Na Umeed To Nahi duo, Yumna Zaidi and Wahaj Ali, is featured as fearless Meerab and stubborn Murtasim in Geo's latest offering, Tere Bin. It is a presentation of 7th Sky Entertainment by the dynamic duo Abdullah Kadwani and Asad Qureshi.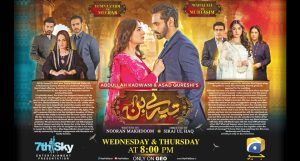 18 episodes down, the drama has intrigued viewers with its riveting tale, mindboggling acts, and grand production. The story is about an influential feudal family residing in Hyderabad. Our hero, Murtasim(Wahaj) is the head of the clan. Unlike other feudal men, he is sympathetic toward his people and takes a stand for their rights. Yumna Zaidi plays Murtasim's cousin in the drama. She is raised by Waqas Ahmed(Farhan Ally Agha). The girl is unaware that she is not the biological daughter of Waqas – and when the reality is revealed her life turns upside down. We like the drama is moving at a fast pace and, within a few episodes, a lot has been disclosed about characters and their problems. We get to know about Meerab's real father(played by Sohail Sameer) and why he disown her at the time of birth. Now he is trying to win over his daughter but she is not ready to accept the reality. Here, Maa Begum(Bushra Ansari) plays her card by announcing Meerab's engagement with Murtasim at a family function.
Though both retaliated against the decision Maa Begum plays the game in a way that ultimately Meerab gives her approval for the wedding.
Although we have seen similar scripts in the past where marriage happens because of parents' undue pressure what this play is unusual is its treatment and amazing performance. Everyone has performed their part with conviction. It is interesting to see anger shades in Wajah's character. We have mostly seen him in soft roles but here he plays an aggressive young man. When Meerab challenges his masculinity he gives her a deadly stare but our stubborn heroine is completely unfazed about it. We all know that Yumna Zaidi is one of the finest performers in our industry and here she has impressed her with his emotional act. She perfectly enacts the devastating mental state of a daughter who just finds out that the man she considers her father all her life is just her guardian and she doesn't have any blood relations with him. How will Merab cope with the most difficult times of her life? What will happen when these two persons with different personalities are forced to live together under the contract of marriage? To know that, keep watching Tere Bin every Wednesday and Thursday at 8:00 pm only on Geo Television.
Read More...