Tere Bin explores an impending romance with family drama & lots of splendor
– SOMETHING HAUTE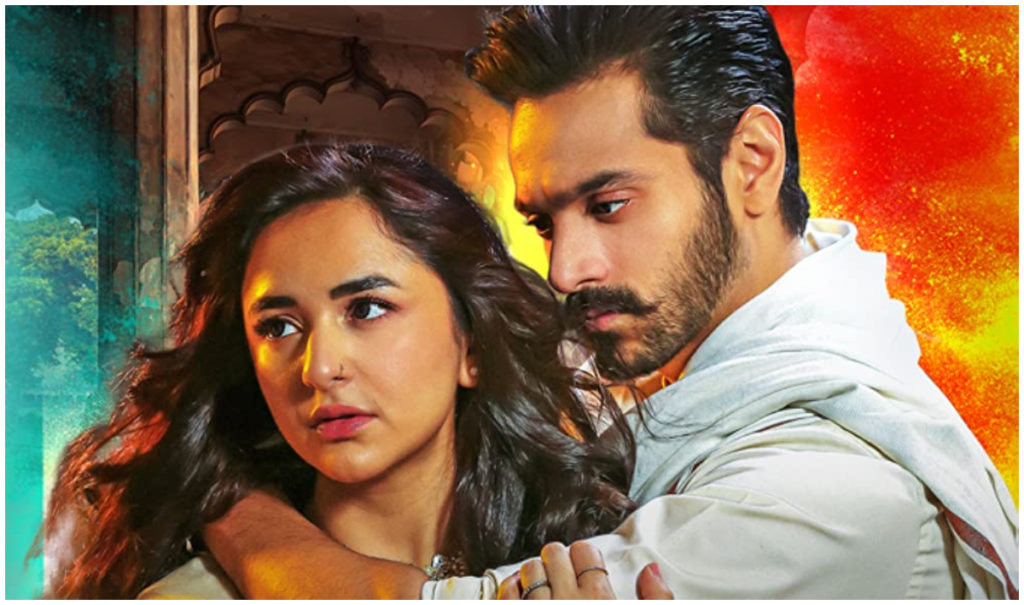 Geo Entertainment's drama serial Tere Bin is stealing all the limelight these days and earning top spot on YouTube every week. The drama gives viewers a larger-than-life experience on television with a storyline that fascinates the young as well as the older generation.
Tere Bin is the story of Meerab (Yumna Zaidi), an ambitious young girl who wants to pursue higher studies. Her entire world revolves around her parents and she believes in them the most. Murtasim (Wahaj Ali) hails from a powerful and influential family. He respects and values the morals and traditions of his family and refuses to let the family down. Meerab's life takes an unexpected turn when she finds out about her biological father and her family's unexpected decision regarding her and Murtasim's life.
Not only Tere Bin is a hit in Pakistan but it is loved by all and sundry across the border as well. Keeping in mind its global appeal, it is safe to say that it has hit a chord with the audience.
Let's take a took at some of the reasons why Tere Bin is trending at the top and everyone is swooning over its presentation and characters.
Stellar cast & engaging family drama
Written by Nooran Makhdoom and directed by Siraj ul Haq, Tere Bin boasts of an ensemble cast which includes veterans like Bushra Ansari, Farhan Ali Agha, Fazila Qazi, Mehmood Aslam, Sohail Sameer as well as younger lot of talented actors like Haris Waheed, Sabeena Farooq, Agha Mustafa, and many others.
All of these actors have performed exceptionally well and have embraced their characters with attention to detail. The drama in the family dynamic is a hook for audience that craves for engaging twists. It has given viewers a break from slow stories that have hardly any development. In Tere Bin's universe, unpredictability is the keyword that pushes the narrative forward.
A magnetic couple
One of the biggest highlights of the drama is its charismatic on-screen couple. It is the first time that Wahaj and Yumna have broken the shell of their TV personalities. They have attempted roles that are poles apart from their actual personas as well as the characters they have portrayed in their career. Our girl Meerub is not a damsel who will succumb to the pressure of her family or relatives. She is headstrong and stands up in front of any injustice. Similarly, Murtasim has a overbearing mindset but he has a heart that beats for his folks.
The two hate each other yet they have a magnetic pull as they say opposites attract. They have heated arguments but their banter is equally entertaining. It seems that their love-hate relationship is building an anticipation for a push-pull cycle in the episodes to come.
A female with a voice 
Yumna Zaidi is known for playing memorable characters on TV; girls who make a mark one way or the other. And this time is no different. Meerub is surrounded by a matriarch Salma (Bushra Ansari), a possessive father Anwar (Sohail Sameer) who abandoned her and a guy like Murtasim who oozes machismo, however, she stands her ground and never gives in. Be it rejecting Salma's engagement demand or walking out in the middle of her nikkah, she never shies away from voicing her opinion.
View this post on Instagram
An assertive male lead with a heart of gold
On the contrary, Wahaj is famous for his chocolate boy or boy-next-door characters. Though the actor has masterfully played other significant roles, Murtasim is a notch above. He is arrogant, assertive and vigorous however he is equally compassionate and empathetic. Wahaj has a no-nonsense, furious expression in the play and his performance as Murtasim is flawless.
The couple is at loggerheads all the time but they are not passive. Hence, the two might go from being completely hostile with one another to slowly growing closer once they start overcoming difficulties together.
Filmi vibes of production quality
Picturesque real locations and beautiful sets, an ensemble cast with exquisite taste and lifestyle, and avant-garde situations encapsulate the experience of this 7th Sky Entertainment production. Tere Bin is an example of how a director can execute a big dream if given the right resources as provided by producers Abdullah Kadwani and Asad Qureshi.
From Murtasim's fight sequences and his shawl acting as the savior's cape to Meerub's dramatic walk off as a bride, the filmi vibes in the drama are aplenty. The scene setting, direction, dialogue and depth in characters add more value, making it a drama which is worth investing your time in.
Read More...