Tere Bin cast bid farewell to fans with an announcement of season 2
– DAWN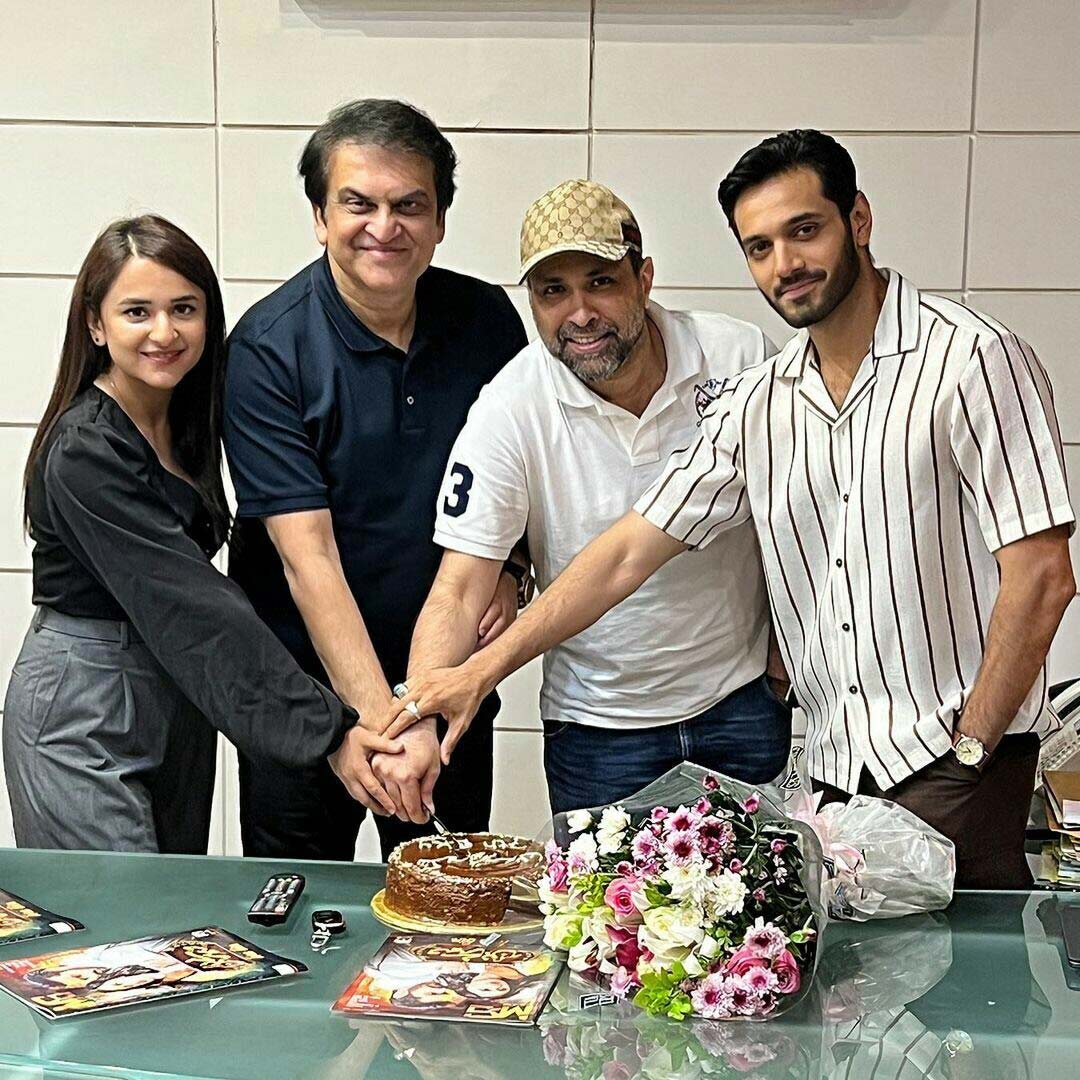 Popular show Tere Bin came to an end Thursday night, leaving fans longing for more. Their pining was short-lived though, because producer Abdullah Kadwani of 7th Sky Entertainment promptly took to Instagram to announce a second season of the show.
The first season had already broken records and captivated audiences worldwide, making it a phenomenal success. Expressing gratitude to the viewers, Kadwani wrote, "Tere Bin's phenomenal journey comes to an end achieving unprecedented milestones in the history of Pakistani entertainment. We thank Almighty ALLAH for making TereBin the biggest blockbuster.
"I and Asad Qureshi extend our heartfelt gratitude to audiences worldwide for their immense love and support towards our creation. A big shout out to the visionary leadership of Asad Qureshi, who has been the driving force behind TereBin's remarkable success," he wrote, acknowledging the immense love and support received from audiences worldwide.
He also praised the outstanding performances of Wahaj Ali and Yumna Zaidi, who played the lead characters of Murtasim and Meerub. "Hats off to the outstanding performances of Wahaj Ali and Yumna Zaidi, who have brilliantly portrayed the lead characters in Tere Bin. Their extraordinary talent & magical on-screen chemistry have mesmerised the viewers, making Murtasim and Meerub's story even more unforgettable."
The show, directed by Siraj ul Haq and written by Nooran Makhdoom, also features Bushra Ansari, Sabeena Farooq, Hira Soomro, Sohail Sameer, Agha Mustafa Hassan, and Haris Waheed, whom he thanked for adding "depth and richness to the narrative".
"A heartfelt shoutout to the director Siraj ul Haq and the writer Nooran Makhdoom for their exceptional direction & storytelling that kept us hooked till the very end. We are also honoured to have worked with the legendary actor Bushra Ansari & our other star cast members in this drama."
Kadwani extended gratitude to the exceptional teams at Geo Entertainment and 7th Sky Entertainment, highlighting their relentless efforts and dedication. "To our incredible cast, crew, and every individual who poured their heart and soul into making Tere Bin a true masterpiece, we extend our deepest gratitude."
Amidst overwhelming love and support, Kadwani announced the much-awaited news of Tere Bin Season 2, promising more excitement and updates to come.
The two lead actors, Wahaj Ali and Yumna Zaidi, also expressed their gratitude and shared their thoughts on the show's conclusion. Ali expressed his gratitude for the opportunity and the love they received, also acknowledging the growth and learning that came with the experience.
"These six months and the amount of love & respect it was accompanied with has been nothing less than a dream come true.
"We all work hard, waiting in a corner for our turn to shine. And how lovely it is to see everyone get their turn. I'm so grateful for mine and inspired to work harder. The constructive criticism, fan art, messages and phone calls from everyone around me made me realise that this is just the beginning. There is so much more I want to do. Despite staying consistently honest to who I am and what I want to do, I made a few mistakes as well which I'm also glad I did. For they allowed me to gain a newer perspective. But this character, Murtasim, I shall treasure forever in my heart."
He posted another video with Zaidi and spoke about their chemistry. "You seldom find actors and characters that bring out the best in you. Actors who push you to be better, more mature a performer and characters that help you redefine your own. And for me, Meerab was that to Murtasim. A guiding light, a muse.
"Thank you my dear Yumna Zaidi for inspiring me, challenging me, and pushing me to grow as an actor. I am immensely proud of what we have accomplished together, and I look forward to future collaborations that continue to showcase our collective talent and passion. Mutasim was Murtasim Khan just because of Meerab."
Zaidi also bid farewell to her character, Meerub, and thanked the viewers for their endless love and support. She acknowledged the collective effort that brought Tere Bin to life and thanked Ali for their extraordinary chemistry.
"Time to say goodbye to the journey which was once started off with the efforts of HUNDREDS and now it has ended up with the love of BILLIONS , Thank you to all of you for having Tere Bin in your hearts , loving it endlessly no matter what , thank you for pouring love to the characters we played and thank you for even showing concerns to each and every wafer thin and significant matter. I was chosen for Meerub and Murtasim made her even more beautiful.
"Thank you Wahaj Ali for picking up the right vibes with me and creating an extraordinary world of Meerub and Murtasim without you this magical chemistry was not possible for me."
Details about the second season haven't been revealed yet but we're sure fans are eagerly awaiting the continuation of the series.
Read More...