'Tere Aany Se' Charms Viewers with Coherent Narrative & Likeable Protagonists!
– GALAXY LOLLYWOOD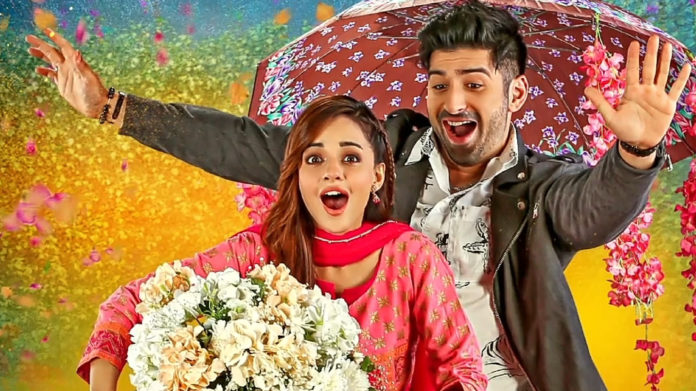 The canvas of Ramadan specials is getting bigger and better. The number of shows are increasing, eventually enabling viewers to savor a variety of unique storylines with an interesting mix of actors. In 2023, channels and production houses have doubled the dose of post-iftar wholesome entertainment. In this regard, GEO TV's second Ramadan special 'Tere Aany Se' has been a pleasant ride so far. Let's Analyze.
Tere Aany Se: Mandatory Information
The show is written by Samra Bukhari, directed by Zeeshan Ahmed and offers star attraction Muneeb Butt and Komal Meer pairing up yet again after an intense show like Qalandar. It is bankrolled by Abdullah Kadwani and Asad Qureshi of 7th Sky Entertainment and airs daily at 9 PM on Geo Entertainment.
The Story So Far
The storyline introduces the protagonist Rania (Komal Meer) a young, feisty girl who dreams of achieving big in life. Despite living in a small town she aims to be the prime minister of the country one day. She is raised by her mother and grandfather Mian Sahab (Salman Shahid). She also has a good rapport with her unmarried phuppo Asma (Sidra Niazi). Rania is strong-headed, opinionated and cannot tolerate injustice, therefore it's her nature to help people around her.
Enter Maheer (Muneeb Butt) a pretentious college student enjoying life on the dollars sent by his father Dabeer (Mehmood Aslam). He lives in Lahore with his family, which includes his grandmother played by Shamim Hilaly, his lazy chacha Hammad (Saleem Mairaj) and chachi Seema (Zainab Qayyum). Ayaz (Mani) is Maheer's neighbor who doesn't do much for a living and is struggling to find his bride.
Maheer accidentally meets Rania at a wedding. As the story progresses, Rania happens to be Maheer's relative who eventually arrives in Lahore for higher studies and stays at his place.
Mixed Reactions
Samra Bukhari's script is promising with ample twists, tracks and well-developed backstories. Having said that, many times the plot points defy logic. Characters like Maheer and Rania getting into a dance faceoff in their very first meeting can only exist in imaginations or TV dramas.
Moreover, Rania is seen busy playing the perfect matchmaker for Maheer in a sequence where she is supposed to get started with her studies. The dialogues are perceptive but there was a lot of scope for them to be wittier and funnier.
Given the grand production value, Zeeshan Ahmad deserves applause for establishing the individual identity of his characters. The sequences between Muneeb and Komal are the high points and he allows his leads to shine and prove their acting abilities. The foot-tapping OST is hummable and incorporated very well.
Terey Aany Se: The Highlights
Muneeb Butt seems to be making the right career choices. On one hand, he made viewers sit up and applaud his act in Sar-e-Rah, and with 'Tere Aany Se' he showcases a sharp timing for comedy.
He puts up a confident act as the showoff bachelor. He looks macho and gets his Punjabi dialect right. Komal Meer is required to be loud and her performance is worth a wow. She is spontaneous and handles the mood swings of Rania with conviction. Her performance would be great if she had funnier dialogues.
Shamim Hilaly as the swag dado is a treat to watch.  Saleem Mairaj's character is well written and puts up a decent performance. Zainab Qayyum aptly performs the given material. Mehmood Aslam is restricted but effective. Mani so far is simply wasted.
Our Verdict
'Tere Aany Se' has so far charmed viewers with its coherent narrative and likeable protagonists. A few more unexpected comic twists and substantial turns would make 'Tere Aany Se' a memorable outing and maybe even the star performer this Ramzan season.
Read More...