Review: Tere Aany Se is classic Ramzan fare, held together by strong storytelling
– GLOSS ETC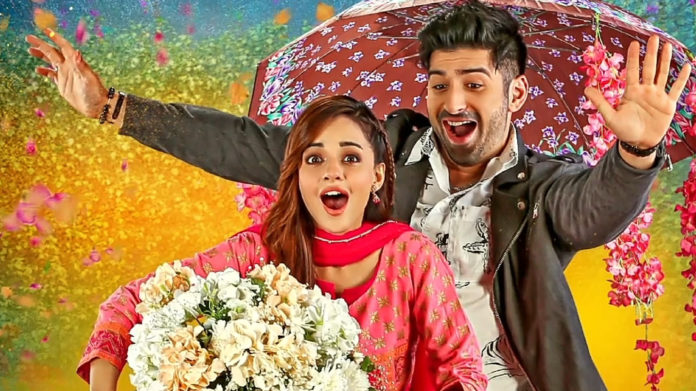 The very first episode of Tere Aany Se, airing on Geo Entertainment this Ramzan, starts off with an aerial shot of lush green fields and a motorbike zipping past them. The camera zooms in on the motorbike's rider; Rania, a yellow helmet perched over her long hair, sunglasses on, her dupatta wound about her neck. Her motorbike is painted with multicolored truck art motifs – vivacious, just like its rider.
Having watched the successive episodes of the drama, I feel that this initial scene set the tone of one of the main pegs that the storyline relies on.
Like all Ramzan dramas, this production by Abdullah Kadwani and Asad Qureshi of 7th Sky Entertainment, is feel-good, with plenty of lighthearted family-oriented humor and an ensemble of colorful characters that deliver one-liners and land into strange situations. Many of these situations arise thanks to its female lead, Rania enacted by Komal Meer. She's good at heart but quick to take revenge should someone cross her path. She's quick to call out wrongs, very outspoken, unafraid and has her eyes set on one day becoming the future prime minister of Pakistan. She rides a motorbike, takes a bus ride from her town to Lahore all on her own, makes thieves and flirtatious admirers beg for mercy and is very capable of roaming into a wedding where she is not invited, sampling the food and even winning a dance competition there.
On a TV-scape dotted with sobbing, suffering women, this strong, happy-go-lucky female protagonist is like a breath of fresh air.
Coming head-to-head with this dynamic female lead is Maheer, who's a bit of a show-off, has a high opinion of himself but often ends up getting taken down by a few pegs by Rania now and again. He's great at fighting off goons but in a clash of wits against Rania, Maheer can be at a loss. Ultimately, as is the case with all Ramzan dramas, our male lead is also basically a good guy. He has a few issues here and there but they're likely to get resolved as the story moves along.
There's an unmistakable chemistry between Rania and Maheer, surfacing occasionally in between their tussles and wordplay. Making the story more well-rounded are the other characters; Rania's Dada and Maheer's Dadi, their aunts and uncles, the motley crew of cousins and the next door neighbor with his heart on his sleeve. Writer Samra Bukhari has done a fine job with working out the family dynamics and building them in endearing ways.
Ramzan dramas may follow certain basic formats but they aren't easy to master. Creating entertaining situations for 30 episodes to be aired daily can be challenging. It is even more difficult to create these situations intelligently, to make them fit into a story which also has more serious angles, related to families and their emotions. From this perspective, Tere Aany Se reminds me of last year's Chaudhry and Sons, also a 7th Sky Entertainment production, which similarly relied on humor and romance but had family values at its backbone.
Is the drama funny, though? There are times when the scenes are too loud, the humor predictable. On the upside, the situations within the drama are funny and the story grows on you, especially once Maheer and Rania's interactions become more frequent and the love story angle begins building up.
Muneeb Butt and Komal Meer act well, although for those of us that have been watching their other drama, the hit Qalandar, it is initially strange to see them in such completely different roles. The ensemble cast really packs in the punches with some very impressive names; among them, Salman Shahid, Shamim Hilaly, Saleem Mairaj, Sidra Niazi, Zainab Qayoom and Mani.
It's standard Ramzan fare but written, directed and produced intelligently. Nearly halfway through its run, it's what has lead audiences to tune into this drama every night.
Read More...