Prime Time: Art Imitating Life?
– DAWN NEWS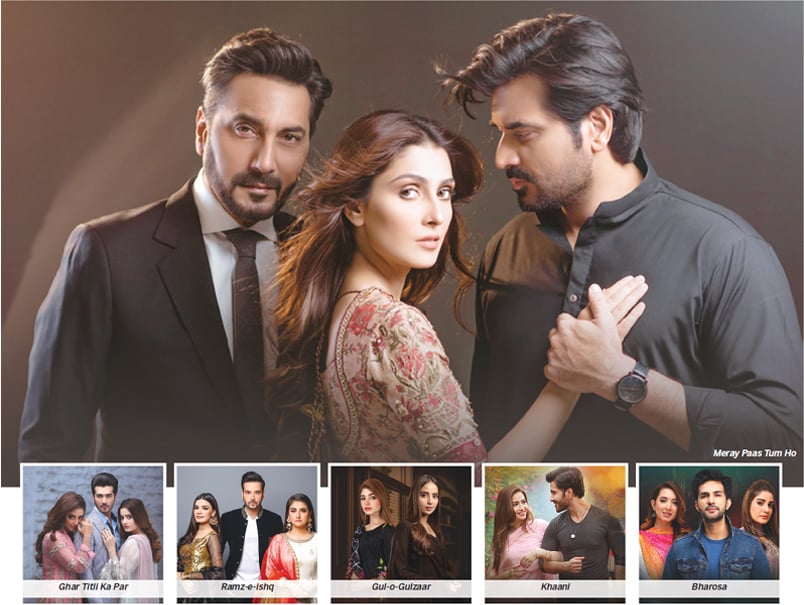 In the eleventh episode of Meray Paas Tum Ho (MPTH), Danish's (Humayun Saeed) world is devastated within seconds. He learns that his wife, Mehwish (Ayeza Khan), whom he married for love, has had a willing sexual rendezvous with another man — a multi-millionaire named Shehwaar (Adnan Siddiqui) — in a luxury hotel room some 700 miles away from the city they live in.
Danish, a middle-class, morally righteous man, doesn't scream, or curl his fists in anger. He just sits there, stunned.
His inner scream, however, had boomed from television on to the masses.
A roadside vegetable vendor I was shopping from and who doesn't particularly follow television, called Danish a wuss. From one man to another, the scoff came out of pity.
Why is infidelity in marriage the theme du jour on television screens? Are unhappy, spiteful women with malicious intent really what drama audiences identify with these days? And whatever happened to diversity in themes?
This is not the first time I heard middle-aged men talk about MPTH; in fact, after Humsafar, this is perhaps the first show that men actually discuss — sometimes for its characters, but mostly for its premise.
Almost everyone (at least, everyone this writer has met) agrees that the infidelity in the drama is handled with sensitivity. They also agree — after researching on their own, I gather — that the sacredness of the bond of marriage is a plaything for television producers.
Humayun Saeed, the producer and actor of MPTH, says there are few stories to choose from these days.
In a very brief phone conversation about the depiction of adultery in television, Saeed says that the trick is how one shows it — and also that, at the end of the serial, there is almost always a message against such acts.
Provided one watches it till the end, I comment.
People don't talk about shows that fade away, Saeed replies.
Presently, there are a string of television serials centering on characters like Shehwaar — people who want to ruin marriages for their own nefarious reasons.
Jerjees Seja, CEO of ARY Network, says that one is only noticing themes of infidelity in television because MPTH became a runaway success. Episodes of the show are registering six million views mere hours after being uploaded.
The show is on a wildfire streak, but not without reason. The characters and the storytelling matters Seja says, attributing MPTH's success to its role-reversal.
"We had the script four or five years back," says Nadeem Baig, MPTH's director. "However, we were doing films at that time so we couldn't commit to it. It's hardly the question of cashing into something that's trending.
"These themes, and these stories were always made in Pakistan, and they always worked. They function well as one-offs. It's like having a once-in-a-blue-moon conversation. You can't keep on talking about such things every day," Baig clarifies.
Baig recounts a similarly-themed serial produced by Six Sigma (Saeed's company) titled Shak, directed by Yasir Nawaz, starring Aisha Khan and Sanam Saeed. That particular serial did pretty good as well, he says.
Decades ago, television had deep-rooted, diverse stories both men and women enjoyed. These stories eventually veered towards 'sensational' content specifically targeting women. This writer, in particular, laughed when he heard titles such as Buri Aurat [Bad Woman] or Doosri Aurat [The Other Woman]. The term 'aurat' (woman), soon became an inside joke in the industry. The audiences were watching, and the advertisers were happy.
In time, stories deemed ratings-worthy were constricted to one particular genre — and that genre had few story-crafting options. Today, unhappy, spiteful women, are a norm on television.
Decades ago, television had deep-rooted, diverse stories both men and women enjoyed. These stories eventually veered towards 'sensational' content specifically targeting women.
Two series in particular that are on-air, Gul-o-Gulzaar and Bewafaa have characters who want to tear apart the bonds of holy matrimony. Following the gold standard (if it can be called that), the victim and the villain are both females.
"Every quarter of television programming had similar themes. You didn't notice them because some just didn't resonate," Seja says.
This is what sells, he summarises in a long conversation. "If the ratings didn't deliver, no one would be making dramas with these themes anymore. If someone says that ratings don't matter, they would be lying. People make their living by making dramas that sell.
"Also, it's not like adultery or infidelity isn't happening in real life. We're just making stories that happen around us," Seja asserts.
"There has to be a red line that needs to be drawn," says Asad Qureshi of 7th Sky Entertainment. "It's unfortunate that, for every other person, where they draw the line is different. For me, it might be drawn a little closer [to where I morally stand], for others it might be a little further.
"It's also unfortunate to admit, but a lot of stories like this exist in one form or the other around us. At the end of the day, we, the producers, are people who are in the business of telling stories. At times we get into situations where we have to show such things — it's about how we show it that needs to be looked at. That is where our self-censorship comes in. Anything I cannot watch with my family is something I would not produce. At the end of the day, they are our audiences as well.
"Sometimes, [our personal stance] doesn't help us in the television ratings game," Qureshi continues. "However, when your values are getting compromised, the numbers shouldn't matter. Morality and ethics are also something, and a producer has to take that into regard."
Abdullah Kadwani, Qureshi's partner in 7th Sky and the Group Managing Director, Geo Entertainment, clarifies that it's not that they haven't made content that centered on infidelity — or content that showed other vices. Even though every story they produced had a message, and for that message to be effectively presented, one needed to show immoral characters, Kadwani and Qureshi often made steadfast decisions to stop entertaining stories that went too far.
"Incredible as it may sound, there is huge appeal for stories that go a little too far," Kadwani tells me. In fact, his production company has always benefitted when he produced stories with risqué content or immoral characters. "We had our heads in our hands when we saw how well these stories did."
In 2017, 7th Sky Entertainment's Ghar Titli Ka Par (GTKP) ruled the ratings. Best described as the thematic predecessor of the presently running Gul-o-Gulzaar, the show revolved around the cruel intentions of one Anji (Sanam Chaudhry) who, envious of her childhood friend's lifestyle, decides to claim the friend's husband (Shahzad Sheikh) for herself. Anji was a delightfully evil character, who already had two children from a love marriage.
Read More...