'Muqaddar' – Another Masterpiece from 7th Sky Entertainment Ends on a High after a Successful Run
– DIVA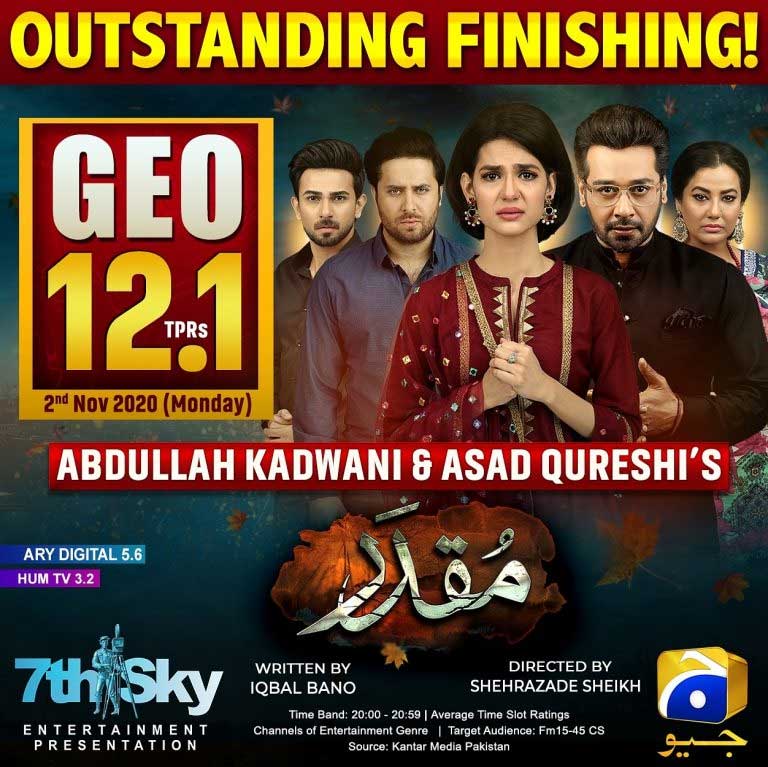 One of the most successful drama serials of this year, courtesy of 7th Sky Entertainment, 'Muqaddar', ended on Monday night on a positive note. After a riveting run and a lot of appreciation for powerful performances, the drama concluded on a high and made to the list of one of the most followed dramas of this year. Even before the last episode, the TRPs it got every week spoke volumes about its popularity among the audiences.
The last episode also brought excellent ratings and is still among the trending videos on YouTube, with more than 2.4 million views in just under 48 hours.
The reason that the story of Muqaddar garnered a tremendous public response was the unique storyline – different from everything that had been airing on our screens these past months. Everyone was invested in the life story of Raima, played by Madiha Imam, and Saif ur Rehman, played by Faisal Quraishi. The twists and turns in the story kept everyone waiting for it every week, and the strong characters it introduced us to (such as the grey character Saif ur Rehman, and a strong woman Raima) will be remembered for quite a long time.
The comments pouring in on Twitter clearly indicated how much the fans loved the serial.
Fans shared how they were hooked to the show till the end.
How much they loved the script and how it had been concluded.
They found it a mind-blowing drama that kept them tuning in to it till the very end!
All in all, fans were all praises for the serial, and thus, Muqaddar got the ratings and recognition that we have seen are a hallmark for most of the dramas produced by 7th Sky Entertainment. Abdullah Kadwani and Asad Qureshi under the banner of 7th Sky Entertainment have produced many blockbuster serials in the last few years, and Muqaddar has added another feather to their cap. From the OST and direction to the performances, everything was spot on, and they deserve all the appreciation for outdoing themselves and bringing us one amazing serial after another.
The new season of dramas by 7th Sky Entertainment also has a promising look so here is hoping that we will continue to be entertained with these new serials for the next few months too. We are looking forward to more of such blockbuster serials from the duo after the success of Muqaddar!
Read More...