Mulaqatein from Jhoom offers cine-magic … for the TV screen
– GLOSS ETC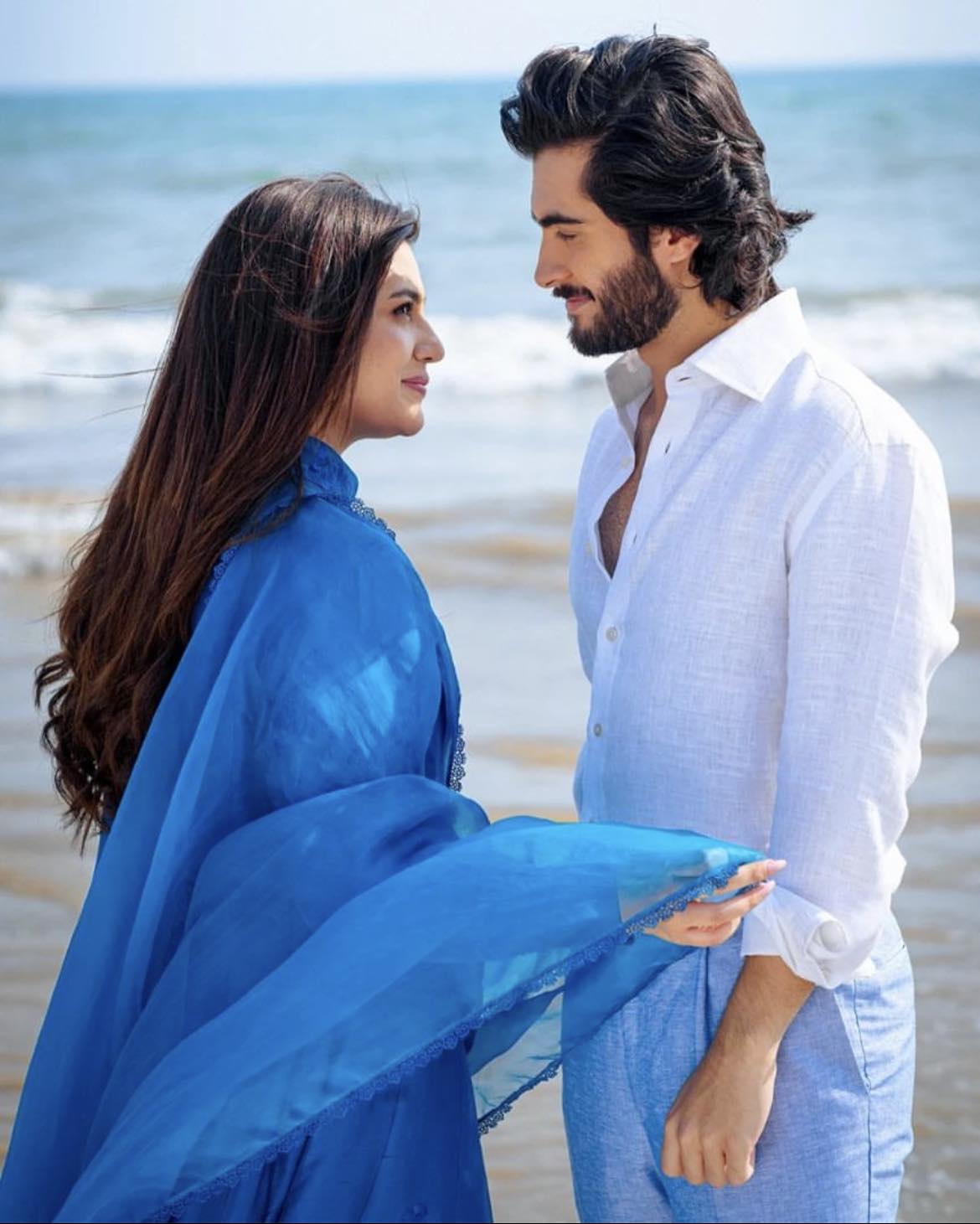 The sun, the sea, the sand. A beach decked out with a floral wreath. A bench overlooking the sea in the moonlight.
If there was one word for describing 'Mulaqatein', the recently released song and video of upcoming drama Jhoom, it would be 'romantic'. The description extends further: it's a beautifully shot video, flowing seamlessly between actor Haroon Kadwani's emotional monologue and a lilting, breathy love song sung and composed by Schumaila Rehmat Hussain. The visuals are sophisticated – Karachi's beach has veritably never been captured in such gorgeous shots before.
The drama's main leads – actors Haroon Kadwani and Zara Noor Abbas – come close, go apart, tease with their eyes. He is the young besotted hero, smiling at her. She is beautiful, coquettish. When Jhoom was initially announced, Haroon and Zara seemed like an unlikely pair, he being younger than her. This age gap, though, seems to form the backbone of the drama's storyline and if this song is anything to go by, their chemistry is going to be quite dreamy.
The visuals simply draw you in. I have often commented that producers Abdullah Kadwani and Asad Qureshi have a knack for creating cinematic experiences within the frame of a TV screen. This is evident in the detailed, extensive scale of their TV drama productions and in their telefims, the most recent being last year's Ruposh which had the essence of an '80's Bollywood action romance.
Mulaqatein, offering a few glimpses of Jhoom, gives testament that the game has been upped further. The imagery is very well thought-out. In the initial few frames, Haroon and Zara stand together in complementing shades of blue and white, looking out at the sea. She flirtatiously raises her dupatta to hide her face – it's all very filmy!
There's more; Haroon playing the guitar in a tent, lit up by fairy lights in the night; lanterns suspended behind a bench where the two look out at the sea; a steady breeze constantly rustling through the couple's hair. And as the song closes to an end, they fall apart. Haroon talks of tears and desolation. This is a song about love and loss apparently. Jhoom is going to be an emotional rollercoaster ride.
And one now really wants to experience these highs and lows. I am quite sure that director Ali Faizan was well aware that Mulaqatein would help build curiosity around Jhoom. After all, if so much cinematic finesse can be invested into a pre-release video from the drama's OST, the drama itself can be expected to hopefully be just as fine-tuned.
Whether Jhoom turns out to be gripping remains to be seen. Mulaqatein, though, may start off a precedent. The power and popularity of the Pakistani TV drama cannot be denied and 7th Sky Entertainment, with their productions airing on Geo Entertainment, have had the foresight and vision to place an increasing amount of  focus on the packaging of their various projects. Jhoom's OST consists of three songs, with Mulaqatein being the first one to have been released. Considerable expenditure has been put into the creation of this song's music video. It helps build hype and win over the audience even before Jhoom begins airing.
The lead pair looks good, the setting looks magical, the music is very hummable. It's cine-magic, for the TV screen!
Read More...