Khaani concludes on a high note
– TNS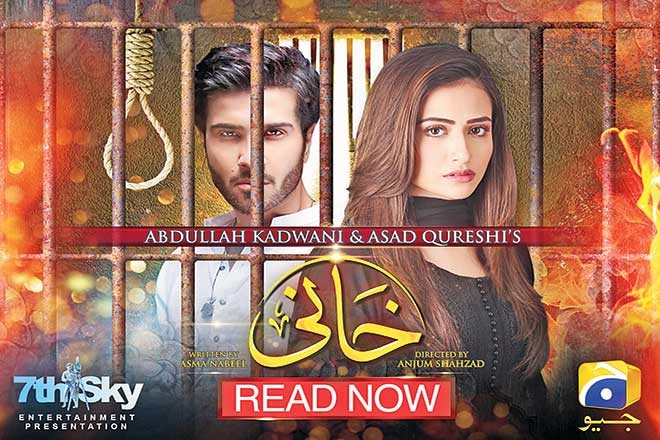 Most local TV productions may be stuck in a rut with clichéd themes and characters but every once in a while a serial has a tendency to get it right. Case in point: Khaani. The recently concluded drama serial not only received critical and commercial acclaim but also broke all previous records in terms of ratings. The Feroze Khan and Sana Javed starrer consistently bagged the top spot on the ratings chart with most of the episodes trending on YouTube.
Khaani opened with Sarym's (Ali Ansari) murder when the then-brutal Mir Hadi (Feroze) shot him in broad daylight and the incident introduced him to Khaani (Sana), Sarym's twin sister. Having learnt of her brother's murder, Khaani makes an effort to fight the case to put Mir Hadi behind bars but given his strong political background, Khaani's family ends up surrendering to him and Mir Hadi is set free.
However, Khaani is shown as someone who is not scared of Mir Hadi and therefore faces him with courage whenever she encounters him. This makes Mir Hadi uneasy and curious and he ends up falling in love with her, love that transcends everything. While Khaani never reciprocates his feelings, he turns into a completely different person, who knows he's guilty, who is compassionate and makes a confession of his crime when he is sent to prison the second time around. The court verdict is a death sentence but Mir Hadi's mother, Sitara (Saman Ansari) goes on to ask Khaani's mother forgiveness for her son. In the last episode, Khaani's mother files the appeal and Mir Hadi's death sentence is changed to life imprisonment, which proves to be a sentence worse than death for him since he had no desire to live anymore.
The best part about this particular project was how themes and characters evolved over the course of the play instead of things changing overnight. Not only did it delve into character transformations from beginning to end, it also touched upon several important social issues throughout the journey of the serial.
With power, politics and class difference as some of its central themes, Khaani managed to highlight several other aspects pertinent to our society. These included women empowerment, speaking up against injustices, family values, having faith in the Creator, educating girls and gender equality among others. Also, the transformation of Khaani from a simple, innocent girl who avoids getting into trouble to a confident and courageous young woman who is willing to take a stand against evil is commendable.
Read More...