Kasa e Dil- An intriguing tale of love
– LAHORE TIMES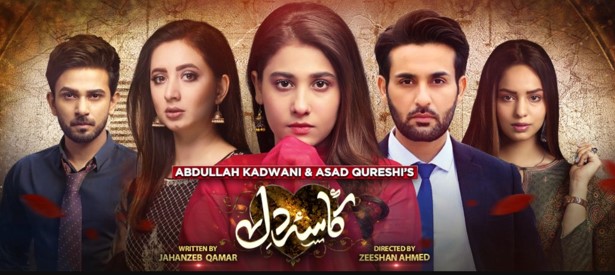 Kasa-e-Dil is a signature production of 7th Sky Entertainment spearheaded by Abdullah Kadwani and Asad Qureshi. The potent storyline is penned down by Jehanzib Qamar, directed by Zeeshan Ahmed of 'Deewangi' fame.
From the beginning, the show took over our TV screens, gaining a massive audience response because of its unique storyline, ensemble cast and superb direction.
Though from initial teasers, it seems to be a love triangle, but as the story progresses, there is a lot more to it.
It's not often that a drama is so reflective of its tittle. Our very own the sassy Hina Altaf, gorgeous Komal Aziz and dashing Affan Waheed are winning hearts already with their brilliant performances; however, the other prominent cast including Ali Ansari, Sukaina Khan, Noor-ul-Hassan and Fazila Qazi are equally adding charm to the interesting storyline.
So, Kasa-e-Dil is a convincing tale of love, hate, jealousy, revenge and mainly revolves around two cousins Hatim and Somia, who grew up together with feelings for each other in their hearts but as the events unfold, circumstances led barriers in their love story and their paths circumnavigated by Adan who falls in love with Somia while Shireen has shown to be a secret admirer of Adan.
The twists and turns in the story make you ride in the roller coaster of emotions but will compel you to stay glued to your TV screens.
The mesmerizing OST of Kasa e Dil pulls the heart strings. It has that achy feeling that evokes the emotions of longing, blues and lost love.
Divinely composed by Sahir Ali Bagga, a beautiful melody with mix of soulful lyrics and husky voice of Sahir Ali Bagga himself, the OST is certainly going to secure accolades.
Overall, it is an intriguing drama with visual appeal and something to look forward to every week. Where performances are compelling enough and each actor / actress are doing complete justice to the characters. The story is progressing at a nice pace by grabbing enough attention of the viewer's where you want to wait for next episode eagerly as soon as current episode ends.
Have you watched the drama yet? If not then we highly recommend this drama to be added to your favorite list of dramas this season!
Read More...