Jurm may set trends, bringing the crime thriller genre to TV in a shorter format!
– GLOSS ETC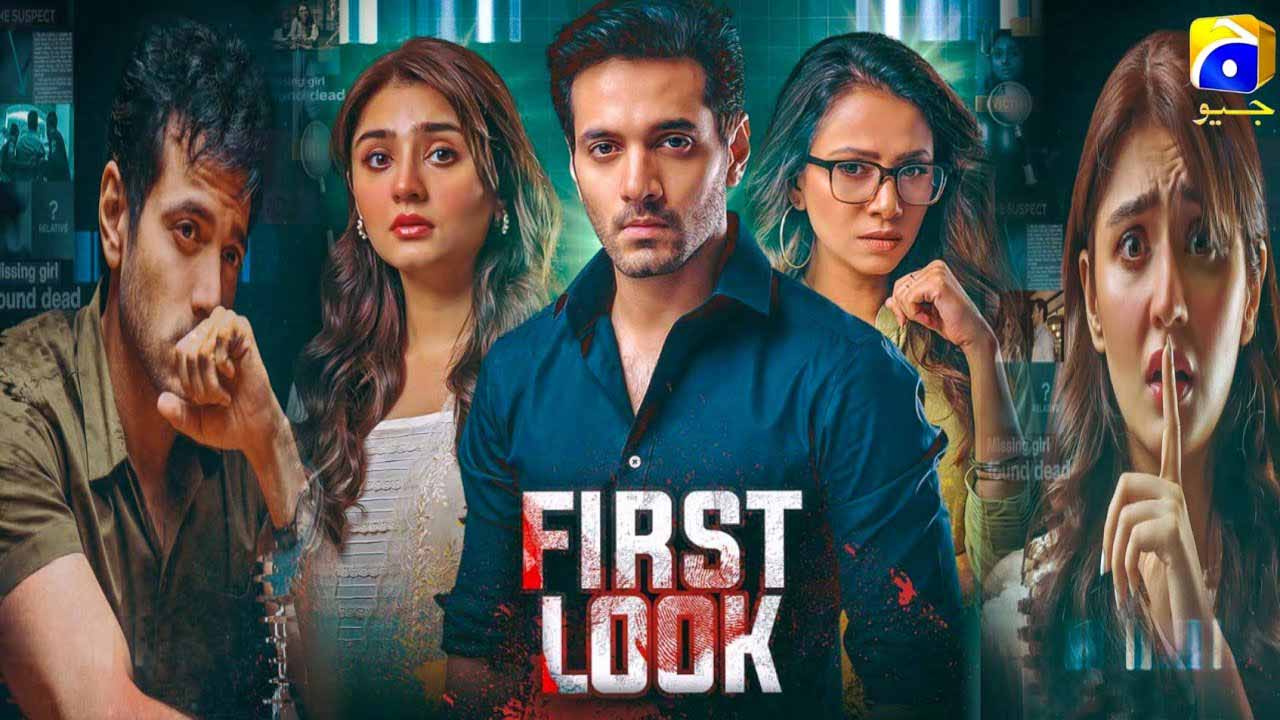 Crime thrillers are rare in the Pakistani drama-scape. They don't tend to fit into the 40-odd episodes long format common to desi dramas. The few mysteries that have been explored on TV tend to get diluted after a few episodes, swerving towards sub-plots that follow more familiar tropes like family politics or the long-hackneyed extra-marital affair. Thrillers, with mysterious twists and turns, and fast-paced plots are unfamiliar terrain on local TV.
Jurm, produced by Abdullah Kadwani and Asad Qureshi of 7th Sky Entertainment, directed by Mehreen Jabbar and scheduled to air on Geo Entertainment, may just set a new trend in motion.
The series stars Wahaj Ali, Durefishan Saleem and Tooba Siddiqui as main leads and will be spanning merely four episodes. The teasers hint at mystery and suspense; there's Wahaj professing love to two different women, Durefishan hiding behind a wall and asking for help in another scene, a wedding picture of Wahaj and Durefishan, Tooba Siddiqui's character telling Durefishan not to 'delve in his past'. They are all little glimpses of the pieces of the puzzle that form the storyline.
The voiceovers in the teaser and the story itself seems to emulate a crime thriller movie rather than a desi drama. Producer Asad Qureshi confirms that, in fact, effort has been made in giving the series a cinematic feel.
"Both Abdullah Kadwani and I want to dabble with unconventional topics but we feel that a lot of them do not fit into the format of the long episodic drama," he says. "Jurm is a first step in that direction. We've changed the format and execution process to fit the script into a short series. These are stories targeted not just towards the traditional drama audience but also towards our future audience. Our research shows that internationally, there is a diaspora that gravitates towards shorter series with a limited number of episodes. The Pakistani audience at present may not be getting lethargic with long dramas but we also want to come up with projects aimed towards a different niche. With Jurm, we're going to start exploring this format while also continuing with our long dramas."
Jurm marks director Mehreen Jabbar's return to TV after a long sabbatical. She  had deliberately taken a break from TV some time ago, stating that she did not want to associate with commercial, cookie-cutter formats with longwinded episodes and borderline toxic plot twists. It was the allure of the mini-series, she says, which drew her back towards TV. "Mini series is a fantastic step that is being taken and is much needed," she observes. "TV is where I started and it's where I get my bread and butter from. I really hope that there is a diverse range of stories and genres that one can work on in the future, so that I continue working in TV."
"Jurm is fast-paced and we're hopeful that it will resonate with the audience. Then again, one can never predict success. It's always a surprise so one can only keep fingers tightly crossed!"
Asad Qureshi says, "Working with Mehreen definitely helped in streamlining the series' format. She wanted to do things differently and so did we. Since she was living in the U.S., she suggested a writer who was based there, Yasir Shah, who is also based there. We all brainstormed together and came up with a number of ideas. The to and fro process continued even after the script was written. We tweaked it together until we were all happy."
What were the factors involved in the cast selection? "Wahaj Ali and Durefishan Saleem were right for the part. Simple as that," says Mehreen. "In fact, not just them but entire ensemble cast comprises of some terrific actors including Tooba Siddiqui, Kashif Hussain, Tazeen Hussain, Atiqa Odho, Mohammad Ehteshamuddin, Maha Hasan, Vajdan Shah and Zhalay Sarhadi. This is truly a collaborative project."
Asad points out, "Some of the actors in the cast are not visible on TV all the time. We made a deliberate effort to create an ensemble that consisted of actors who were associated with unconventional roles. Similarly, for Jurm, as well as for the other short series that are currently in production, we are working with directors who tend to gravitate towards non-commercial work and new writers who may not have the experience of writing long episodic drama scripts."
Does it help that Jurm's male lead, actor Wahaj Ali is currently TV's biggest sensation, his popularity at an all-time high right now? "I think Wahaj's current success with Tere Bin and his other dramas has definitely helped get more eyeballs on the series. I am not complaining!" says Mehreen.
Asad adds, "It all just worked out. Jurm was shot last year and the edit took some time. After that, we were waiting for a slot to become available on the channel so that the series could be aired. Wahaj was shooting Tere Bin with us at that time but we couldn't have had predicted that it would become such a huge success. We didn't plan it but now Jurm will be airing at a time when Wahaj's popularity is shooting high. And of course, it has helped create more hype for Jurm."
Following Jurm, 7th Sky Entertainment will be airing more short series on Geo Entertainment. Another series, shot with Mehreen Jabbar this year in February, is currently under post-production. Other series currently in the works include collaborations with directors Shehrazade Sheikh, Ali Faizan and Sheheryar Munawar.
This, of course, isn't the first time that short formats have been explored on TV. Production houses do occasionally dabble with storylines based on limited episodes as well as telefilms. 7th Sky Entertainment's telefilm Ruposh last year, for instance, owed its success to an out-of-the-box form of storytelling that had the feel of an old-school Bollywood romance, tweaked for TV. Similarly, Asad Qureshi hints that the upcoming spate of short series will be telling unique stories shot in very different ways.
Jurm's teasers do hint at a story that is new to TV. Wahaj Ali's acting prowess is undeniable and Durefishan Saleem is a coveted female lead on TV. But while the audience may initially be drawn to Jurm because of its stellar cast, their acting will have to be bolstered by a gripping story to keep people hooked. Then again, Mehreen Jabbar, Abdullah Kadwani and Asad Qureshi are names that one has faith in. Mehreen remains one of the country's most critically acclaimed directors, with a slew of memorable projects to her credit. Abdullah Kadwani and Asad Qureshi are producers renowned for setting trends in the TV drama industry and producing a constant spate of record-breaking hit projects.
Also, it's about time that TV content extended beyond family dramas to other genres – suspenseful crime thrillers in this case. Here's hoping that Jurm is a step towards popularizing short series formats and more distinctive content on TV.
Read More...