Jhoom starts off with some good ol' filmy magic
– GLOSS ETC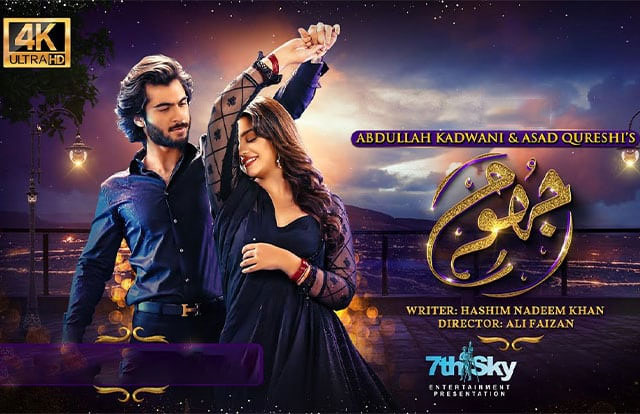 Seascapes and city lights, glamorous homes and a musical score effectively playing in the background. In 'Jhoom', 7th Sky Entertainment's latest episodic drama which has just begun to air on Har Pal Geo TV, even the hospital is glossy and a ramshackle tea canteen by the sea is lit up with fairy lights. There's romance and regrets, fistfights and a hero pacing like a caged tiger in a jail cell. There's a story that is drawing you in, revealing the storylines that will unfold and converge in successive episodes.
If there was one word to describe the first two episodes of Jhoom, I'd like to declare them to be 'sophisticated'. Producers Abdullah Kadwani and Asad Qureshi have taken it upon themselves to create a beautiful, fantasy world with the aid of music, sharp visuals, a well-paced story and an unconventional romantic lead pair. The camera-work is exceptional with 4K technology, common to filmmaking, applied to TV. The result is  consequently so well-defined that you feel like you're watching a movie rather than the usual drama. The TV production game has been stepped up, certainly.
Without the painstaking attention to detail which is very evident throughout, the first two episodes of Jhoom that have now been aired would have seemed like just any TV drama romance. Aryan, played by Haroon Kadwani, is younger than Dr Maryam, enacted by Zara Noor Abbas, but this hasn't stopped the sparks from flying between the two. We've seen just a glimmer of the chemistry between them, just the slightest bit of eye contact and glimpses of a few shared smiles – it's all building up anticipation. A story of a romance between a younger man and an older woman is nothing new but it's how the story is told that matters.
Aryan is good at heart, fiercely loyal to his friends, but unable to control his temper when he sees an injustice taking place. A scuffle with a group of unruly boys at the beach at night, who were making suggestive comments towards his friend Tina, leads to Tina getting shot in the arm. Aryan and his friend, Sam, who is also Tina's boyfriend, rush her to the hospital. Aryan creates a huge uproar at the hospital, misbehaving with the staff until the doctor in charge, Maryam, gets security to drag him out and has him sent to jail.
The next morning, Aryan's father visits Maryam, requesting her to withdraw her complaint against his son. She initially refuses but later, complies. She proceeds to visit Aryan's home to meet his father. They have a long conversation – given that they are more or less strangers, it's an overlong one which is something that I fail to understand. Regardless, it is while conversing with his father that Maryam gets to know that Aryan's sad past lies at the root of his anger issues. Aryan, having been released from jail once Maryam withdraws her complaint, comes face to face with her a few times. At first, he is belligerent. But we can sense him softening. Maryam is similarly intrigued by him. There is romance in the air.
We also find out that the unruly boy who accidentally shot Tina at the beach is actually Maryam's younger brother, her only close family. Time after time, Aryan is shown recalling the incident at the beach and vowing to find the boy who shot Tina and possibly beat the living daylights out of him. This will, of course, lead to complications later in the story.
The second episode wraps up with Tina and Sam getting engaged and Aaryan locking eyes with Maryam while the musical score begins to play. This story's just getting started.
But it's off to a powerful start. The visuals are sharp. The title track is hummable. The sets in the backdrop have all been planned meticulously. The actors' styling is very well-sorted. Zara Noor Abbas is charming as the serious, sensitive Maryam. Haroon Kadwani acts well as the young man, struggling to squash his temper as he finds himself gravitating towards this doctor who, in their very first meeting, had firmly told him off. The ensemble cast, particularly Haaris Waheed as Maryam's troublesome brother and Usman Peerzada as Aryan's father, are promising in the initial scenes that have been aired so far.
It's a drama made like a movie; a romantic, musical, emotional, angst-ridden movie, that is. For the next two episodes of Jhoom, on the coming weekend, perhaps one should have some popcorn ready.
Read More...