Jannat Se Aagay touches upon 'jannat' … and what lies beyond it
– GLOSS ETC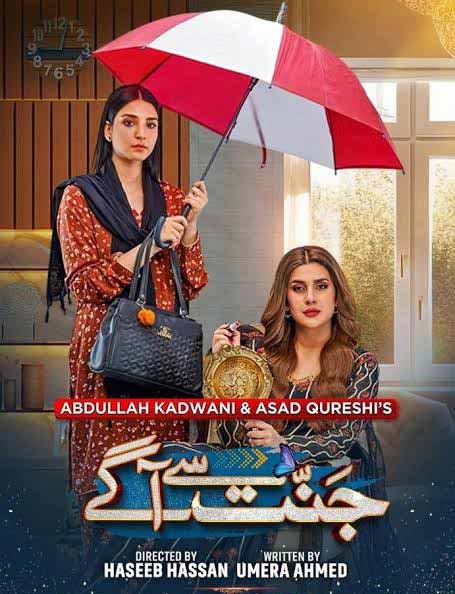 'Jannat' or heaven, and what it symbolizes for different people. The power of media and the machinations that prevail behind the camera. The race for ratings and the moral boundaries that are carelessly crossed in order to top the charts. The gullibility of the masses and the obsession of a fan, who may get impervious to the travails of the people around her in her quest to meet her idol. The societal obsession with fair skin and the ageist expectations that prevail when seeking out a girl for marriage.
The first two episodes of the drama 'Jannat Se Aagay', which has just begun airing on Geo TV, are packed with social commentaries. However, there is no sermonizing at all; just some very intelligent storytelling courtesy some of the very best in the business: producers Abdullah Kadwani and Asad Qureshi of 7th Sky Entertainment, director Haseeb Hassan and writer Umera Ahmed. Together, they spin a plot that treads unique territory that most of us are familiar with: the morning show ratings race and the gimmickry employed by those in show business in order to enamor the audience.
Kubra Khan is 'Jannat', morning show extraordinaire and leader of the ratings race. In the first two episodes alone, she is shown bullying a rape victim and her family into crying on TV and recounting their horrific experience in detail and appearing in her show with a gigantic snake wrapped around her neck. Jannat is a pro at knowing precisely what works on TV and she revels in being queen bee in the morning show circuit, much to the consternation of Ayla, her arch-rival.
Tabassum, played by Ramsha Khan, is 'Jannat jee's die-hard fan. She'll skip out on a neighborhood wedding and shift about her exam study schedule just in order to watch Jannat come live. She's so convinced of Jannat's generosity that she'll write to her about her younger brother's job troubles and ask for help and she'll beseech Farooq, her fiancé, played by Talha Chahour, to somehow obtain a pass to the high-in-demand Jannat Jahan show on the day of Jannat's birthday.
Revolving around these two female protagonists are the people that encompass their world. Jannat is shown interacting with the channel head who is extremely happy with her work and Ayla, on her own morning show platform, seethes with anger watching her rival rake in high ratings day by day. Tabassum and her family struggle to make ends meet. She earns pin money by teaching tuition to children in the neighborhood, her brother desperately tries to seek a job and Farooq keeps getting fired. Her elder sister, played by Dania Enwer, dreams of getting married and her mother, enacted by Lubna Aslam, is insistent that a wedding date can only be decided for Tabassum and Farooq once her elder daughter gets hitched.
Every evening, while weathering the troubles of their daily lives, Tabassum's family invariably unites in front of the TV, riveted by the Jannat Jahan show, discussing their favorite host as if she is one of their own. Jannat's perspectives are discussed at length in Tabassum's house and she is held up on a pedestal. It's a realistic look at precisely how TV and the dreams sold in it can affect the audience.
Umera Ahmed has truly come up with a distinctive, nuanced storyline. There are scenes that stay with you till later. For instance, in the second episode, there is a sharp contrast in the way Tabassum and her mother pray. While the latter prays for her children's success and for going on the Hajj pilgrimage, the former's entire focus is on one day meeting 'Jannat'. Both women are from the same household and economic background, yet the complete dissimilarity of their prayers shows how their minds work differently and how dreams and prayers can change with age.
The performances are superb. Kubra Khan is brilliant as the scheming, media-savvy Jannat. Ramsha Khan is very believable and extremely likeable as the gullible, young Tabassum. Talha Chahour does a fine job playing the besotted, sweet Farooq. Gohar Rasheed, who evidently plays Jannat's husband, is yet to make an appearance. The ensemble cast also never misses a beat, starting off the story on a strong note.
Behind the camera, Haseeb Hassan works his magic, directing with a gimlet eye, allowing the camera to widen onto sky-scapes before narrowing it down to the gritty realities of Tabassum's neighborhood or the glamorous setting of Jannat's morning show.
Also, the 7th Sky Entertainment vision and expertise is very visible; the productions values are of a high caliber and the locations and sets extremely believable. It certainly adds value to the story.
The drama is off to a very strong start. The messages it gives ring loud and clear. Beyond 'Jannat' or heaven, there is a lot more that meets the eye, both literally and figuratively. The later episodes hold the promise of many more revelations.
Read More...