Jannat Se Aagay Is A Fandom Red Alert & Here's 5 Reasons Why!
– FUCHSIA MAGAZINE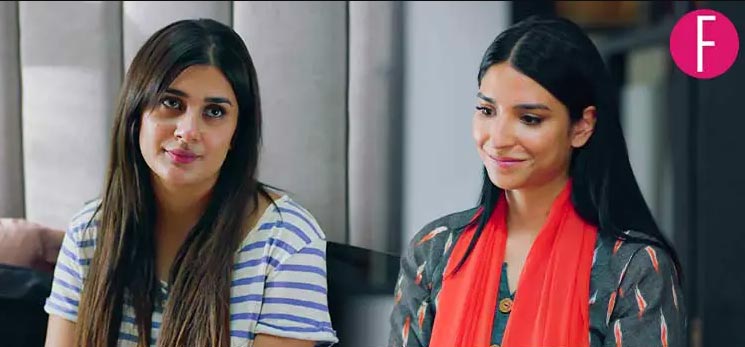 Jannat Se Aagay is a project of 7th Sky Entertainment, produced by Abdullah Kadwani and Asad Qureshi. Written by Umera Ahmed of Hum Kahan Ke Sachay Thay & directed by Haseeb Hassan of Diyar-e-Dil. The main cast includes Ramsha Khan as Tabbassum, Gohar Rasheed as Noman, Talha Chahour as Farooq and Kubra Khan as Jannat. The ensemble cast includes: Shehryar Zaidi as Abid, Hina Bayat as Shabana, Faiza Gillani as Sirya, Saboor Aly as Zara, Daniya Anwer as Tasneem, Sara Ashraf as Andleeb, Aina Asif -as Aasia, Hoorain Khan as Aima, Ayesha Jahanzaib as Aalia, Aiman Zaman as Chanda and Hamza Tariq as Jibran.
1. When The Lines Between Reel & Real Are Blurred
Tabassum's obsession with "everything Jannat" makes her oblivious to all that might be wrong in Jannat's lifestyle. From living a lonely life to battling a failing relationship, Jannat has a lot going wrong with her personal life, but all Tabassum sees is the personality she fell in love with onscreen. Jannat cannot do wrong (in Tabassum's eyes), and hence, everything she does must be right! Thus, this belief system is a red alert for anyone who can't see the unhappiness and challenges of a person who appears perfectly perfect onscreen for them. And whose reel life, they begin to believe, is their real life too.
2. Celebrity Fandom As Obsession
Tabassum plays Jannat and her aura in her head 24/7. This literally means she's pretending to live vicariously through Jannat's life. From wanting to be picked up for work in a car (rather than Farooq's bike), to fighting with Farooq and looking down upon his simple attempts at pleasing her, Tabassum now wants more and better, from lifestyle to relationships. Moreover, a guy like Farooq just doesn't figure in the dream world Tabassum has built inside her head – The one Jannat inhabits. She wants to be just like Jannat. But is that really a bad thing?
Well, if Tabassum ends up driving Farooq away and not even realizing what she's done till much later, till one day, she shakes off the Jannat obsession. But will it be too late then?
3. Perfect Lifestyles Hide A Great Deal Of Imperfections
From dreaming of Jannat's lavish kitchen (and thinking of her own, simple family setup), to obsessing over Jannat's closet and 5 course meals, Tabassum is already blinded by the expensive shopping list, luxury lifestyle and material wealth which allows Jannat to live the life she wants. But what Tabassum misses is the husband who is cheating on his wife, the money he needs her for and how all the pretty clothes in the world won't make Jannat's life any more prettier, especially since Noman is least interested in what Jannat wears or does in her life.
But seeing such wealth and living a life without all these luxuries (so near yet so far, for Tabassum), might end up making Tabassum fall into a depression of sorts or a perpetual sense of unease & dissatisfaction as she fails to enjoy a bike ride with Farooq anymore, or a quiet, simple meal at a dhaaba as her mind keeps travelling to the lavish meal at Jannat's house. She also wants to postpone her marriage till she settles her siblings financially in some way or another, sacrificing personal happiness for long term material gains.
Again, she might lose Farooq in this battle to have more and better – good or bad, we will find out soon. But for now, Tabassum seems to be on a warpath with Farooq, a pretty nice guy, and it all stems from her experiences at Jannat's household.
4. Celebrities Can Be Infectious For Fans
Jannat speaks with authority to her subordinates; she doesn't have an equal relationship with anyone. She's the one who calls the shots in every relationship. Whether husband, work relations or even her mom. Hence, Tabassum has picked up on this, but since she is not as worldly wise or successful (career wise) as Jannat, her reactions come off as too sharp or corrosive. Tabassum telling Farooq off, telling the cook off, or even the driver who picks and drops her from work, Tabassum's attitude has swiftly changed to one of arrogance, short temperedness & hugely inpatient. She tells off her parents, is downright rude to Farooq (for no apparent reason) and can ruin relationships just because she thinks that is how one must grab success, by being a version of Jannat inside her head.
5. Lifestyles Of The Rich & Famous
Tabassum leads 2 lives. One at home and one in Jannat's home. Thus, her two hugely contrasting realities make her look down upon anything that's not as top notch as in Jannat's home. From expensive clothes to home food deliveries, Tabassum is caught between two existences- the one she leads at home, and the one she leads in Jannat's home. Also, Jannat's contrived and maybe fake(?) lifestyle Tabassum sees onscreen is testament to the hard work of the celebrity, a lot of that struggle is lost as fans only see the bright lights and fun side of a celebrity life, and not the sacrifices that led to that life.
Jannat Se Aagay is a fandom red alert in many ways. Can Tabassum learn to understand the finer details of her celebrity's personal struggles, can she sift the good from the bad, and more importantly, can Jannat help guide her protege to a better future without destroying her personal relationships?
Tell us what you think in comments below!
Jannat Se Aagay is being aired on Har Pal Geo every Friday & Saturday at 8pm. Tell us in the comments if we have missed any point!
Read More...