Jannat Se Aagay exposes the façade maintained by show business
– GLOSS ETC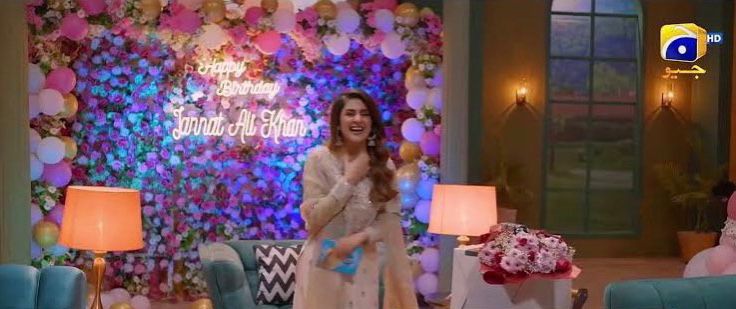 All that glitters isn't gold. And show business is ultimately, true to its name, putting out a 'show'.
Jannat Se Aaagay's story is testament to these age-old adages. Within its initial few episodes, the drama has explored the powerplays that exist behind the camera, the facade maintained by celebrities and the deep cracks that seep into their actual lives. On the flipside, the story delves into the struggles faced by the lower classes, the taboos that exist as norms in society and how an avid TV audience can get misled by the glamour that they see on screen. The completely disparate lives of two women, morning show host Jannat Ali Khan and her fan Tabassum Mughal, intertwine to lay bare these realities.
It certainly isn't your usual drama plot. The characters aren't typical either. There's no chemistry-laden romance or Machiavellian mother-in-law luring you in. Writer Umera Ahmed is certainly dabbling with new territory, probing into the story of a high-flying morning show host.
There is a lot in Jannat Se Aaagay that hits home. One wonders if producers Abdullah Kadwani and Asad Qureshi of 7th Sky Entertainment applied their years of experience in the entertainment industry to make the story more realistic. Or perhaps, director Haseeb Hasan added his own insights or Umera Ahmed spent some time researching before mapping out the episodes. Anyone who has tuned into morning shows at some point – and who hasn't? – cannot deny that certain machinations are at play in order to ensure ratings. Many of these gimmicks are utilized by Jannat Ali Khan, enacted by Kubra Khan.
In the very first episode, for instance, Jannat goes to great lengths to ensure that a rape victim and her family weep believably on live TV. At another point, she winds a menacing snake around her neck in order to keep her audience hooked. One episode focuses on her birthday, where the very first call is a staged 'surprise' one from her supposedly doting husband.  Frequently, she talks about the clothes that she's wearing and then, promises to send the outfit to the live caller who asks for them. And then, there's song and dance in her shows, make-believe weddings, Valentine's Day celebrations, the whole shebang.
Her competitor, hosting a morning show at the same time slot on another channel, tries hard to top Jannat's ratings but is unable to do so.
On the other end of the screen, Jannat's show is watched religiously by her fan Tabassum Mughal, played by Ramsha Khan – a young college-going girl who aspires to be just like Jannat jee and is disconsolate if she ever misses out on the show. Tabassum is so enraptured by the make-believe life created by Jannat on-screen that she finds her own realities drab in comparison. The gifts that her fiancé Farooq brings for her don't interest her, even though she knows that he has taken great pains to save up for them. Her home and her family's perpetually strained finances irritate her. She dreams of living a life of luxury – a life similar to that of her idol.
Beyond the perception of heaven purported by show business – Jannat se aagay –  there is so much more. Jannat may be applauded by her peers, be sought by important men who declare themselves to be her 'fans' and wield considerable power over her bosses as well as the audience that is besotted by her. However, she returns to a home where her children do not want to have her around and her husband Noman – a grumpy, sardonic Gohar Rasheed – makes it clear that he is not happy in their marriage. He is cheating on her with an office colleague who he wants to marry. For her viewers, she may emulate the ideal wife and mother, masterfully balancing home and career, but in reality, she feels like a stranger in her own home.
Tabassum's life, so much more gritty on the surface, is filled with people who love her and watch out for her. Farooq smilingly bears with her rebuffs and her mother and father fret over her obsession with Jannat. Shrugging all this aside, Tabassum's only dream is to somehow reach 'Jannat Jahan' – the title of Jannat Ali Khan's home – so much so that following her graduation, she opts to become a maid in the house.
The contrast between the two women is stark and there are layers in Umera Ahmed's script that add to the plot. Jannat and Noman's complicated relationship emulates the intricacies that can exist in a marriage. Tabassum's callous behavior towards Farooq depicts the pain of a one-sided relationship. Tabassum's elder sister keeps getting rejected in the marriage mart, her younger sister's penchant for art is put down by her family and her younger brother is jobless and desperate to make a living for himself in Dubai, perceiving the city to be a land of opportunity – these sub-plots all touch upon taboos and thought-processes that are considered norms in Pakistani society.
The nuanced, very intelligent script is riveting, giving out strong messages without sermonizing. Haseeb Hasan directs expertly and Abdullah Kadwani and Asad Qureshi's vision is evident in the high-end production values and well-paced storytelling. The very powerful lead cast is on a roll – I imagine they are enjoying playing characters that aren't right off a cookie-cutter!
The truths that exist in Jannat Se Aagay, though, are what make this drama particularly unique. They remind me of a conversation that I had back in 2019, with Shaista Lodhi, who used to rule TV ratings in her long stint as a morning show host. "The host is hardly ever questioned and it's very wrong," she had told me, in an interview that was published in Dawn newspaper. "I have hosted morning shows on veritably every major channel in Pakistan and on set, there is this pressure to win the ratings race. Often, as hosts, we end up negating our own personalities … I'm a doctor and when I would sit next to a guest who would declare that depression could be cured by eating okra, I would cringe within. I would wonder if someday my medical license would be taken away because I was allowing unqualified people to speak out in my show …"
She had continued, "There is content that plays with people's lives and health and creates delusions. A schizophrenic woman could get pronounced as 'possessed' or young girls are encouraged to think that their sole purpose in life is to please their husbands when they are advised to put on lipstick every evening or cook food in a certain way. There were make-up shows where the sole focus was on how to make small eyes look big. I felt like I was doing a crime."
"I observe some of the terminologies that are used at large by hosts," Shaista continues, "A woman who has been unable to have children for 12 years, is described as 'beychaari' [wretched]. Instead of guiding her to live her life in constructive ways, she is further jostled towards mental stress. It's just wrong. If at any point I wanted to add in a quote or make an intellectual reference, I would be told by my heads that no one wanted to hear it and that I needed to move on to catchier topics."
"Perhaps I'm able to say all this now because I'm no longer hosting a show. I got tired of it a long time ago but I couldn't back out because I was a single mother at the time who had bills to pay. Now that I could leave the business, I immediately did so."
Jannat, supposedly spreading happiness and giving well-meaning advice on TV while actually building insecurities, flaunting her wealth and encouraging unrealistic expectations, is certainly not a very fictional character at all. She weaves a web of glamor that we're all familiar with – but like all webs, it can collapse at any point. Beyond the façade of heaven – Jannat Se Aagay – life isn't a bed of roses at all.
Read More...