"Jannat se Aagay" – A Unique Story Where Reality Meets Drama
– GALAXY LOLLYWOOD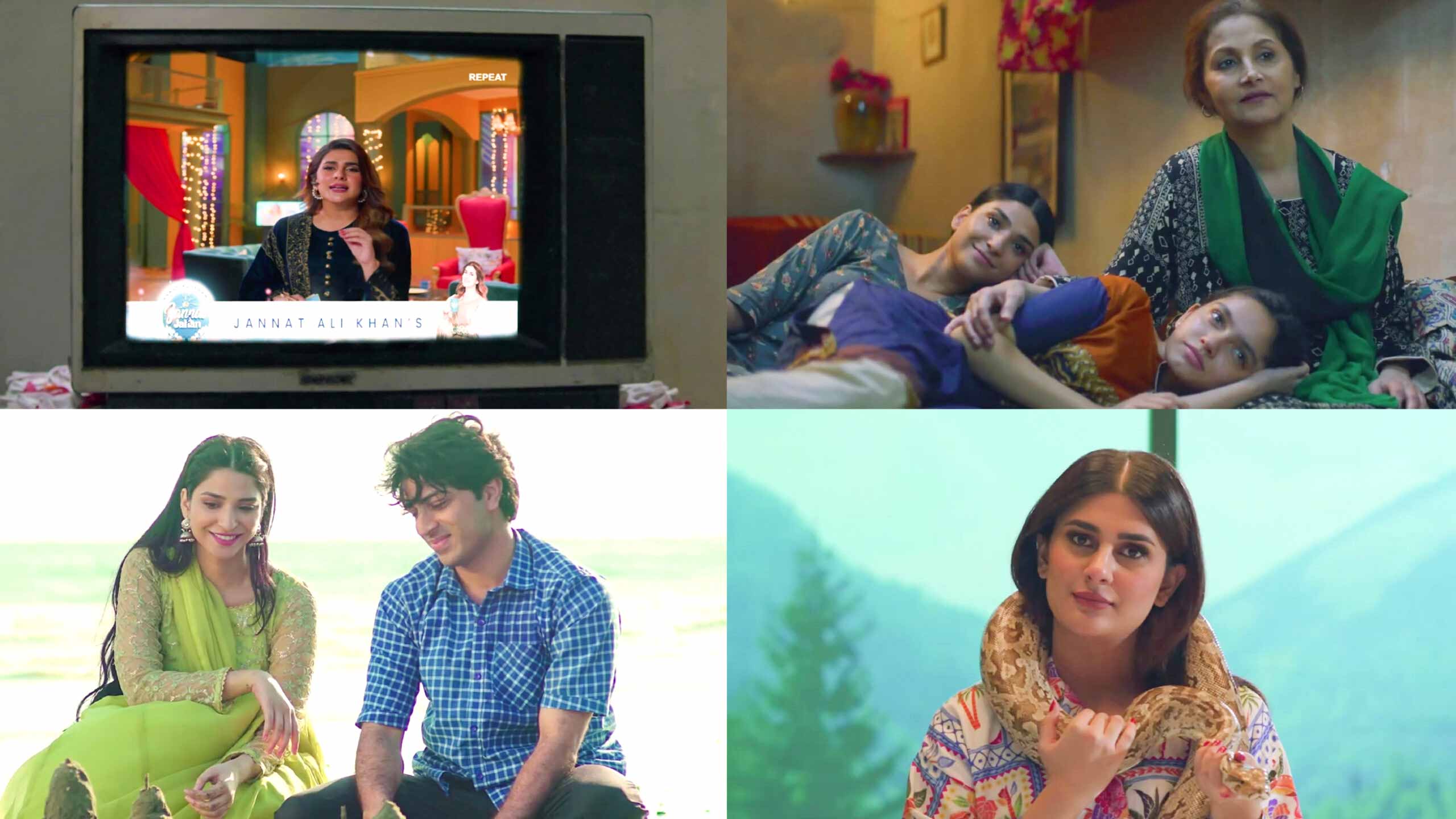 Geo Tv's most recent offering, "Jannat se Aagay" has hooked the audience in its first two episodes, owing to its unique plot – a story revolving around morning shows and the impact they have on the masses.
With regards to production benchmarks, 7th Sky never fails to offer something that is larger than life. "Jannat se Agay" is a prime example of this; the cinematic traits, locations, costumes, make-up, wardrobe, and even the set design of a morning show – which is featured in the story, keeps you hooked.
Besides this, the captain of the ship – director Haseeb Hassan, deserves applause for executing the story masterfully, as even the minute details and idiosyncrasies in the scenes contribute towards audience's intrigue and curiosity as to what's going to happen next.
Although we can't judge the book by merely reading a few pages, it seems like a roller coaster ride full of lessons is in store for us. The story not only reflects the harsh reality of media industry but also incorporates varying emotions of love, guilt and power.
The plot: Jannat Ali Khan – A Beguiling host!
Jannat Ali Khan, a popular morning show host – played by Kubra Khan is a woman willing to cross any limit in order to maintain the TRPs of her show named Jannat e Jahan. Not to mention, Jannat – as a host, knows every trick to make the audiences believe and look up to her as a "messiah".
The story provides an interesting insight into morning show culture where fancy hosts in their designer outfits take center-stage and aren't shy to blatantly talk about anything and everything as long as it amps up their ratings, all while being indifferent and insensitive towards the nature of the topic, issue and the resulting repercussions.
Jannat Ali Khan is one such host. Utilizing her way with words, compelling aura, alluring personality and seemingly empathetic tone, she makes the audience believe that whatever she says is right, and this very quality of securing high ratings by her content makes her popular among the viewers and a threat for her competitors.
Tabassum Mughal – played by Ramsha Khan is one viewer of Jannat's show. Tabassum – a college student from a middle-class background, makes sure to watch her favorite host Jannat on television regardless of whether she has an exam or has to attend a neighborhood wedding.
Jannat influenced her mind in a way that she can leave her home just to catch a glimpse of her ideal, she even requests her fiancé, Farooq – played by Talha Chahour to buy her a ticket as a birthday gift so she can attend Jannat's morning show.
Although, Ramsha doesn't look like a college student, she pulls off the character so well, especially when she watches the show with her mother and sister and gets completely involved in it. However, in one of the scenes when she sees Jannat, holding a python (snake) around her neck, makes her overwhelmed, the way she reacts over it felt 'too much to absorb'.
Talha Chahour as Farooq in "Jannat Se Aagay" – A praiseworthy performance
Talha Chahour is fast becoming a household name in Pakistan. Everyone knows his commitment to the craft ever since 'Jo Bichar Gaye' and 'Wabaal' came out. However, Farooq in "Jannat se Aagay" is someone who makes you happy by his affection towards his fiancé Tabassum, especially when in one of the college scenes he compliments her for looking like Jannat.
Fighting with his luck – Farooq is unemployed and is looking for a job. Despite his adverse circumstances he's ready to do anything that brings a smile on Tabassum's face. The duo looks adorable on screen, as their energy and chemistry complement each other.  Also, Farooq's way of dealing with everyday life gives the audience an insight of a common man's issues.
Jannat Se Aagay Shows Emotional Yet Bold Scenes
It's shocking yet astonishing at the same time that the television screen is showing a story which portrays the dark side of media industry. A scene where Jannat interviews a rape victim and asks her inappropriate and insensitive questions, sheds light on media's quest for ratings even at the cost of insensitivity and absolute disregard for human emotions.
In the relevant scene, Jannat insensitive attitude towards the victim causes the latter to break down and burst into tears on screen, therefore jacking up the shows' ratings and boosting Jannat's ego along the way, something Jannat intended to achieve from the get go.
Besides the star-studded cast, impressive production and powerful storyline, the OST – as usual plays its role in making the story even more captivating for the audience. Qurat-ul-Ain Baloch's melodious and mesmerizing voice moves the audience and makes them a bigger part of the story.
Jannat se Aagay seems like a good combo of plot, script and actors. We wish the whole team good luck and hope that the story will move in the same pace and end on a note making a permanent mark on audience and be remembered as a 'worthwhile' watch.
Read More...