Jannat Say Aagay's commentary – and How it makes you Think
– GLOSS ETC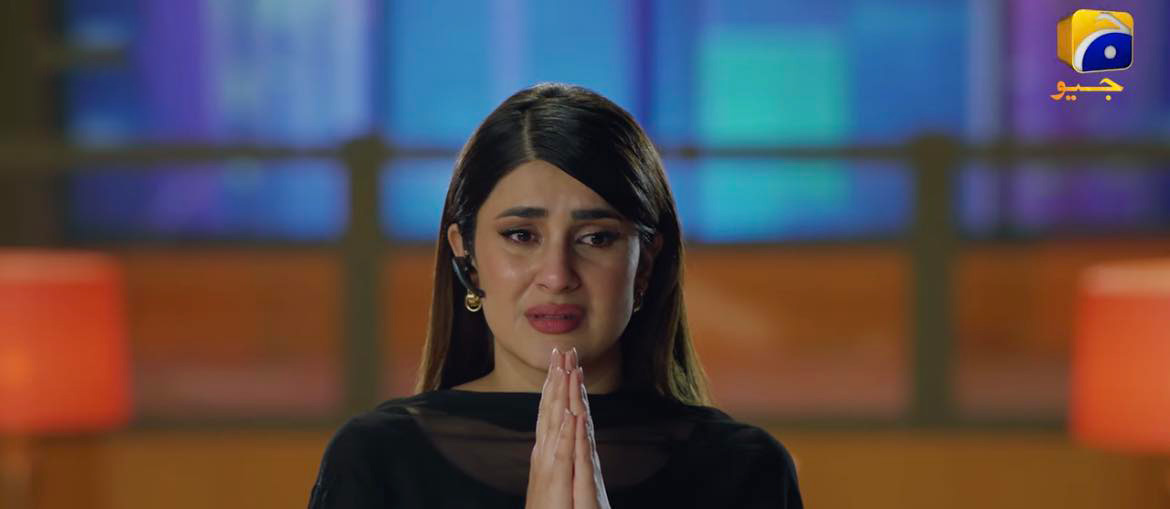 The views on YouTube for the 27th and 28th episode of 7th Sky Entertainment's drama Jannat Se Aagay, airing on Geo Entertainment, multiplied very quickly. The story, as it inched towards its concluding episodes, spiraled into the past, showing the protagonist, morning show host Jannat, and her husband Noman in the early years of their marriage, before she became a celebrity and he became jaded by their relationship. The scenes were poignant, romantic and fringed by the sad reminder that the love did not manage to last the long haul.
Audiences love romance, possibly the main reason why the views increased far more rapidly than for other episodes of the drama.
But Jannat Se Aagay, helmed by producers Abdullah Kadwani and Asad Qureshi, director Haseeb Hasan and writer Umera Ahmed, is not a romantic drama and has never professed to be one. The story revolves around the complexities of the human psyche, expertly delving into myriad emotions: hubris, envy, the lust for fame and wealth, the search for true love, professional rivalries, the fake web woven by media and the fallacies of friendships. The 30-episode long drama – which culminates tonight – has been an extraordinary tale that keeps one gripped with its storytelling and performances, despite the absence of the usual tropes that tend to dominate TV dramas in Pakistan.
There has been no saas-bahu tussle, no family politics and while there is a philandering husband, the story does not revel in his promiscuity, letting it be one aspect rather than the sole focus for several episodes. There have also been no longwinded, sobbing scenes – the characters cry and lament but they don't do so in multiple scenes. The story is replete with morals, the most obvious one being how media can spin glamorous, fake images, infiltrating a love for material gains within a captive audience who believe everything they see on the TV screen. And yet, the script never sermonizes with long lectures. It's refreshing and so much more impactful.
The cast has been brilliant. Kubra Khan has shone in the titular role, flawlessly transforming from the Machiavellian TV host in the earlier episodes to the woman struggling to run her home and desperate for genuine friendship. In the second last episode, Jannat finally breaks down in her live show and confesses to having lured her audience with false gimmickry and glamor and your heart goes out to her. This has been one of Kubra's best performances yet.
At the other end of the spectrum there is Ramsha Khan, flexing her acting muscles as the disloyal Tabassum who is initially Jannat's obsessed fan but later, begins to envy her lifestyle and steals, lies and spurns the people she loves in her quest for wealth and fame. For most of the drama – until she realizes her mistakes – Ramsha is the villain in the story and she's very believable as she enacts the yearning and greed in Tabassum's eyes, the disdain she feels for her humble home and her fiancé and the lies she says with complete ease as she begins to steal.
Talha Chahour as Tabassum's fiancé is also pivotal to the story. He's the voice of reason who waits for her to come to her senses, the man who is so much in love with her that he ignores the taunts of his friends and the warnings of his mother and chooses to cry silently rather than consider leaving her. Talha's character, Farooq, could be considered quite spineless, opting to root for Tabassum even when she is very obviously no longer interested in her. There are times when you want to shake him up and show a bit of self-respect. Instead, Farooq cries, calls Tabassum incessantly even when she ignores him and smiles blissfully when she does choose to pay him attention. He epitomizes self-sacrificing, unconditional true love. And while, in the real world, a man like Farooq may not exist, Talha's performance is remarkable, setting him apart as one of today's most talented young actors.
Speaking of talented, Gohar Rasheed plays Noman, Jannat's no-good, manipulative, complicated husband. Gohar's acting prowess is indisputable and he broods very realistically as the unhappy husband. He is also equally believable in the throwback where he is completely in love with his wife, enjoying the simple life that they lead. One wishes, though, that there was more of Gohar in the story. Noman is an important cogwheel but his scenes are fewer and he doesn't dominate the script quite as much as the other characters.
Stringing the story together are the brains behind it. Producers Abdullah Kadwani and Asad Qureshi are renowned for their high production standards and the drama sets are extravagant and detailed. Haseeb Hasan is a master storyteller and this has to be my most favorite script by Umera Ahmed yet.
In the second last episode, a tearful Jannat says to her audience that she used gimmicks like black magic in order to gain ratings. Even in real life, Pakistan's spate of morning shows have often downslided towards inviting black magic practitioners, reveling in celebrity divorces and scandal and staging weddings and dances in order to attract audiences. Jannat added that her audience was also to blame for particularly enjoying such content, propelling channels and hosts to churn out more of the same, in order to stay ahead of the game.
There is a lot within Jannat Say Aagay that is very true. There's a lot to think about. A lot to remember.
Read More...