Chauraha starts off with strong social messages
– GLOSS ETC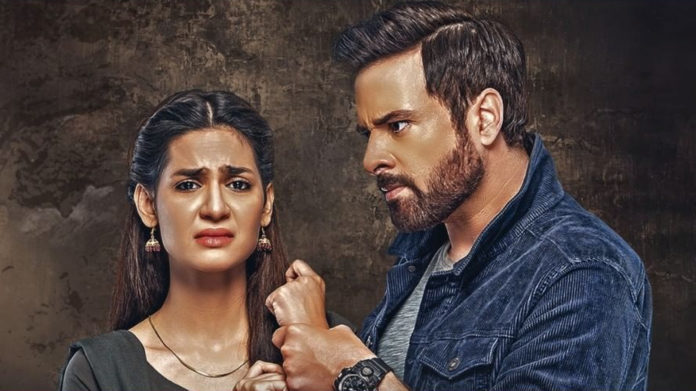 "Don't trust the people you meet on the Internet." It's a familiar adage but one that can get ignored with disastrous results. With the advent of multiple apps on social media, extensive usage of smartphones and a burgeoning diaspora that relies on the Internet for their interactions, there are people who get entangled in complex webs. Their life ends up at a tricky crossroad, a 'chrauraha' so to speak.
7th Sky Entertainment's latest drama 'Chauraha' which has begun airing on Geo Entertainment narrates a story along these lines. Within three episodes, the premise has been set. Things may be hunky dory right now but some sinister twists and turns are right around the corner.
Zoya, played by Madiha Imam, is a young college-going girl easily impressed by wealth and perpetually taking pictures with her swanky new cellphone and uploading them on social media. Her mother Shireen – Saba Hamid – is a single parent, working hard to provide her daughter with her needs and fending off the flirtations of her co-workers. Zoya's Phuppo, enacted by Bushra Ansari, takes care of Zoya while her mother is gone and is generally cantankerous and demanding and also, quite sad that she never got married. Asad Siddiqui plays Zoya's neighbor who is smitten by her.
At the other end of the spectrum, there's Junaid, played by a sneering Mikaal Zulfiqar, who is about to wreak havoc over Zoya's life. Junaid's father played by Behroze Sabzwari works with Zoya's mother and despite her refusal, hopes to marry her. He also has a younger sister that he is fiercely protective of, beating up a boy that he sees talking to her and commanding her to keep her head covered.
Junaid's obsession in life, however, is to get rich no matter what it takes. 'Aap ke betay nay murghiyan pakarnay ka kaam shuroo keeya hai' ('Your son has started a business where he catches chickens'), he tells his father while handing him a wad of cash.
In reality, these metaphorical chickens are girls that he kidnaps and then releases after receiving ransom. Zoya's social media profile catches Junaid's eye. Pretending to be a girl, he befriends her.
What will happen next can be predicted. In fact, Chauraha's teasers reveal glimpses of a tearful Zoya trapped in a dark room, being threatened by Junaid. Her mother and aunt are shown, evidently very worried. We don't know whether Zoya will escape easily from Junaid's clutches or if she will endure prolonged torture. She does manage to escape, though – another turning point also revealed in the teasers. Crying on her way back from college, she is seen stumbling on to a pavement, squirming away from the people around her.
Even in these initial few episodes, when disaster is yet to take over Zoya's life, Chauraha's story is a dark one. There are few light moments and a sense of impending doom prevails. What keeps one watching, though, is the storytelling. Produced meticulously by Abdullah Kadwani and Asad Qureshi, with a script by Edison Idrees Masih and the very intuitive Aehsun Talish on board as director, the drama is paced very well, easily keeping one hooked. The script is an intelligent one. The primary story warns against the extensive usage of social media but there are underlying sub-plots that highlight the problems faced by single working mothers and the peer pressure amongst young girls to have a boyfriend ('everyone has a boyfriend,' Zoya is told repeatedly). The yearning to have gotten married felt by Zoya's Phuppo is yet another part of the story. There's also the societal assumption that a widow with a daughter cannot consider marrying again.
The ensemble cast, of course, is very strong. Saba Hamid, Bushra Ansari and Behroze Sabzwari are veterans who know their craft very well. Madiha Imam is one of today's finest young actresses and has proved her mettle with roles that range from the conniving vamp to a naïve, easily impressed girl like Zoya. Asad Siddiqui has great screen presence although it would be good to see him now in roles where he isn't playing the quintessential 'good boy'.
At this point, the drama particularly belongs to Mikaal Zulfiqar. Mikaal's classic good looks have often landed him into predictable hero roles and it's quite evident that the actor is enjoying playing a malevolent villain for a change. Junaid is sarcastic with his family, volatile and quite evil. A scene in the most recent episode show him trapping a girl who thought that he was in love with her and his friends and him laughing wildly while she cried.
There is a chance that the drama's next few episodes will feature some violent scenes. Given that Chauraha is being aired at prime time, when families including young children tend to watch TV together, one hopes that the violence is toned down and perhaps implied more than actually shown graphically.
It is characteristic of 7th Sky Entertainment to focus on plotlines that rivet, with social messages strung into the story rather than ringing out as a lecture. With cyber-crime on the rise, it is particularly important to air out the disadvantages of over-exposure on social media on TV, where it can reach out to a mass audience which also consists of young girls and boys who may be susceptible to the Internet's lure.
Chauraha is off to a strong start.
Read More...