Chaudhry And Sons Wins Hearts With Ease This Ramazan
– GALAXY LOLLY WOOD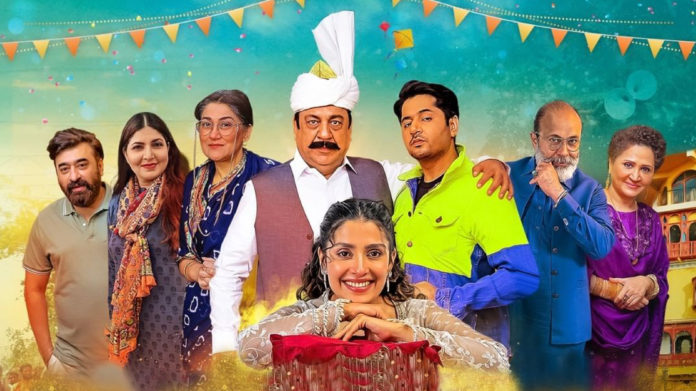 Ramzan special serials are the latest trend to bless our TV screens. Quite rightfully, when these light hearted plays break viewership records every year, writers and producers get motivated even more to bring new shows for the next year too. A number of shows like 'Chaudhveen Ka Chaand', 'Roza Ke Rozay', and 'Faiz Manzil Ke Rozaydaar' had ruled our screens in past decades. However, the craze that is witnessed now for Ramzan dramas is unmatched. It all started from Saima Akram Chaudhry aka Queen Of Ramzan plays' 'Suno Chanda' back in 2018. It was then the most watched Ramzan show which made the producers bring another season to the series next year, following a number of special shows every year. Today, we talk about Chaudhry And Sons.
Chaudhry And Sons
After the successful 'Ishq Jalebi', Geo Entertainment has launched another Ramzan special show this year titled 'Chaudhry And Sons'. Despite a constant demand to bring the sequel of the former, makers preferred to launch a fresh story instead that will lighten the screens and create new memories this year.
The Plot
A lot like Saima Akram's other projects, 'Chaudhry And Sons' also revolves around a Punjabi household, but with a touch of Hyderabad Deccan this time. The story revolves around Chaudhry Dildaar, head of the Chaudhry family, who is proud of his family values and principles. No one in his family has ever married outside the caste, except his daughter Sabahat, with whom he broke all relations.
Sabahat and her husband had died in a car accident long ago, leaving behind their daughter Parisa (Ayeza Khan) with her grandmother Malka Begum (Irsa Ghazal). They reach the Chaudhry household, unaware of their real identity, following a series of events. While the family gives them the utmost care and respect, Billu Chaudhry (Imran Ashraf) falls in love with Parisa instantly. It is at this point that audiences can't help wonder: what will happen next?
Performances
'Chaudhry And Sons' contains a bunch of talented artists who need no introduction, as their craft speaks volumes. While Imran Ashraf and Ayeza Khan are winning hearts as Billu and Pari, viewers can't help but adore Irsa Ghazal and Sohail Ahmed as the grandparents. Sohail Sumeer, Madiha Rizvi, Shagufta Ejaz, Noorul Hassan, and Asma Abbas portray uncles and aunts beautifully as well. These strong performances are also one of the reasons why the show is doing well in terms of ratings.
The Highs And Lows
There has been some criticism with regards to the narrative falling into a dramatic portrayal of a Punjabi household. Some viewers have also claimed to find similarities between Ishq Jalebi and Chaudhry And Sons.
However, most people are satisfied with the show as it promotes family values and shows poignant family reunions which is a celebrated and widely accepted genre in South Asia. The writer and director are to be credited for a show that takes us back to our roots and is a total family entertainer.
Verdict So Far
'Chaudhry And Sons' is doing a remarkable job as it is catchy, entertaining, light hearted, emotional, as well as a family-oriented show. It is an overall commendable effort to bring families closer in the nights of Ramazan.
Read More...