An 'Ehsaas' for Ramzan on Geo Entertainment
– GLOSS ETC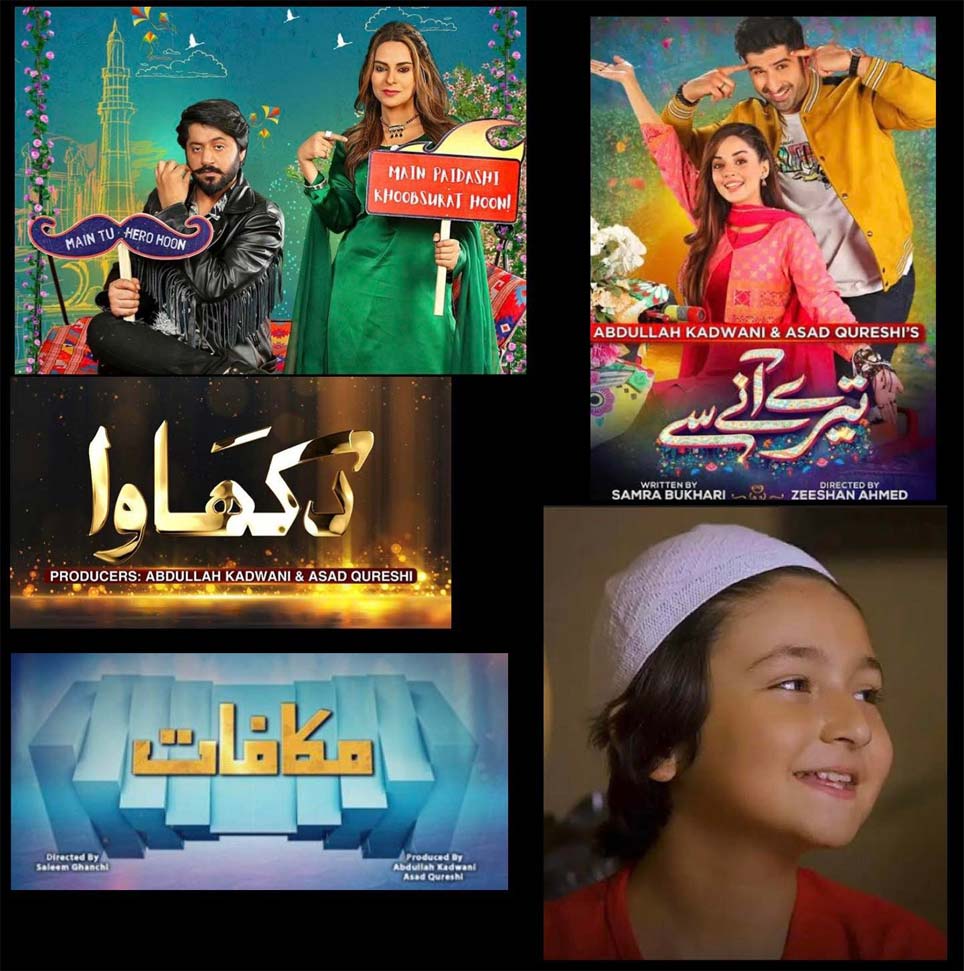 A little boy fasts for the first time and discovers that the house maid's son is also fasting for the first time. The boy, Abdullah, decides to celebrate with the maid's son in the spirit of Muslim brotherhood. In another teaser, a woman shows off her dowry leading to complications in her married life. Later in the evening, a firecracker Heer comes head to head with a street-smart Hero. And then, boisterous families and a warring hero and heroine bring on hilarity and romance.
From inspirational stories to feel-good family comedies, this year's 'Ehsaan Ramzan' transmission by 7th Sky Entertainment on GEO TV has a lot to offer.
Producers Abdullah Kadwani and Asad Qureshi have, for some years now, hit a chord with TV audiences by creating drama storylines with strong messages. Their content for Ramzan is especially created keeping the spiritual aspects of the month in mind. For instance, the series Makafat and Dikhawa, now in the fifth and fourth seasons respectively, have been widely appreciated particularly because they are based on short stories that pinpoint societal vices and issues without resorting to sermonizing.
Added to this list this year is 'Abdullah', especially focused towards children, creating awareness through the eyes of a little boy who is striving to follow the teachings of Islam. Content, especially created for younger audiences is rare, and the experiences of Abdullah seek to entertain while also educate the young age group that will be watching the series. The drama, airing daily at 5.30 p.m. on GEO Entertainment, also resonates with adults in the audience.
At 6 p.m. daily, the short anthology series Makafat pinpoints the concept of 'makafat-e-amal'; basically, what you sow is what you reap. This series is now in its fifth season, with audiences appreciating its sensitive, emotional storytelling.
Airing at the prime time 9 p.m. slot is 'Tery Aany Se', with Muneeb Butt and Komal Meer, the hit pair from 7th Sky Entertainment's very popular Qalandar, in the lead roles. She is the wisecracking independent girl and he, the rich boy with an attitude. Accompanying them is a motley crew of colorful characters. The cast includes Salman Shahid, Shamim Hilali, Mehmood Aslam, Sidra Niazi, Ali Khan, Sadaf Aashan, Saleem Mairaj, Zainab Qayyum, Laiba Khan and Mani. Produced by Abdullah Kadwani and Asad Qureshi, the drama is written by Samra Bukhari and directed by Zeeshan Ahmed.
With a strong eye for entertainment, coupled with the effort to create content especially customized for the spiritual month, 7th Sky Entertainment is upping the ante this Ramzan.
Added to the mix are the slew of hit dramas produced by 7th Sky Entertainment that will continue to air at the prime time slot of 8 p.m.: Farq, Qalandar and Tere Bin. Audiences wouldn't want to miss out on them, of course! And they wouldn't want to miss out on the special Ramzan productions either.
Read More...