All things love
– THE NEWS ON SUNDAY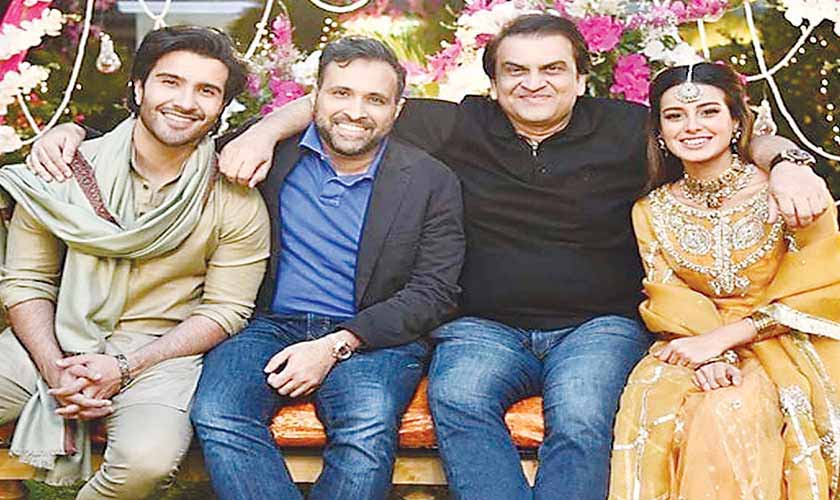 While speaking about his upcoming play, Khuda Aur Mohabbat 3, Feroze Khan becomes candid about his relationship with God and claims that we've forgotten how to love.
Not too long ago, Feroze Khan announced that he's leaving the entertainment industry in order to follow a more enlightened path. And he did, for a year or so, only to announce that he's coming back, that too with a play titled Khuda Aur Mohabbat. Things could literally not be more aligned for him right now.
It's a sunny day in the middle of Karachi's winter when Feroze arrives right on time to talk about what's coming up for him. "It was fate that brought me to Khuda Aur Muhabbat, and I'm really glad I got it; I can't thank God enough for this opportunity," says Feroze Khan, while choosing his coffee from the menu, a task that took him a few minutes longer than what's considered conventional. Finally, he decides on a latte after conversing with the waiter. He may believe in fate but Feroze seems like the sort of person who makes calculated decisions. So was it a conscious decision to choose a play as religiously inclined as this one, or was it just a coincidence?
"I think this play is a great piece of art," he answers, explaining that perhaps fate brought the play to him but he chose to do it for various reasons, one of them being the production team. "I would like to give credit to the producers, Abdullah Kadwani and Asad Qureshi, and 7th Sky Entertainment, for going beyond what other producers do. They invested in the cast and ensured a good production – that's commendable. Also, the show will have a little bit of everything for everyone – there is love, family, learning. You'll also find fashion."
What's interesting is that Khuda Aur Muhabbat 3 – written by Hashim Nadeem Khan and directed by Syed Wajahat Hussain – is shot in Multan, also known as the city of saints. One of the key locations where the play has been shot is the Shah Shams Sabswari shrine, built for the Muslim Sufi missionary, also a Pir, who was most famous for his poetry. "All of Multan has a very strong Sufi energy, whether you're inside the shrines or outside. Spending all that time there had an impact on me, naturally," he says, lost in retrospection.
But we are already aware that Feroze has been feeling an enlightened energy since some time as is. One day, Feroze took to social media to announce that he was quitting showbiz; the actor did not take up any projects in the time he took off. Without going into details, Feroze claims something made him choose God over everything else in his life.
What did he do while taking that break?
"I spent time with my spiritual teacher, Hazrat Sultan Muhammad Ali sahab, who's the 10th descendant of Hazrat Sultan-ul-Arifeen. So in that break that I took, I spent a lot of time with him, I learnt a lot from him. He is a young, 34-year-old off-roading champion and does rallies. He's also got 150 horses and cut a very strong and inspirational figure for me."
That's not the perception one would have of a spiritual teacher. "That's the thing! God says I'll provide for you from places that you can't imagine. You can never know what a person is like or judge someone from their appearance. And you can definitely not judge someone's devotion by what they look like from the outside. I learnt so much from my time spent with Pir sahab, patience being the most important virtue."
Pakistan's Pir culture can be controversial though; it's even been addressed and taken up in drama serials as such. While every community has religious guides, one also cannot deny the presence of fakes. There are so many people pretending to have divine knowledge but instead, they preach the wrong things and manipulate people for their benefit.
"There's a lot of fake everything," Feroze responds. "A lot of fake Guccis and LVs, but one must understand and look for the difference between the two." But how can one distinguish between the two? "One must always ask for understanding from God, only then will you know what's fake and what's real. He says, 'We will guide the heart of the believer.' So you will know in your heart, if you're in the right place or not."
At this point, it becomes clear that Feroze has no qualms about discussing the influence his spiritual teacher has on him. It's something that became quite the news when it was reported that he had returned to acting upon the advice of his spiritual teacher, who he lovingly calls Pir sahab.
From his first drama through the countless he has done over the years, from his debut film – Zindagi Kitni Haseen Hai – to the next (Tich Button) that awaits the opening of cinemas and to Khuda Aur Muhabbat 3, that mysteriously still does not have a release date, Feroze Khan's career has been a rollercoaster ride up until this point.
It wasn't just his Pir, but all the "sensible people" in his life, as he calls them, who suggested the same thing: don't quit acting. Try to do good with the power and influence that you have.
"My teacher didn't tell me to stay in acting; he said somebody should be there because what you do with this power is what matters. He suggested I help people in understanding religion and its teachings."
Feroze is back then, it's decided. But obviously everything has changed. He's planning on doing things a little differently now. "Everything I do now, it cannot be meaningless. It cannot be just ke pyaar hogaya aur chaar banday maar diye. Aur saas bahu dramas. I don't think that would be wise." While he's hardly done the saas bahu dramas, Feroze is known for playing the quintessential bad boy much too often. From Gul e Rana to Khaani and more recently Ishqiya, he has preferred grey roles. Khuda Aur Muhabbat 3, however, appears to be different and it appears that the actor's new avatar has him coming in with a purpose.
Keeping in mind his now religious leanings, all his present and future work will depict a good message. "Religion is not just about namaz and the rituals – it's also about being fair and just and compassionate – basically being a good person," he echoes the thought.
Which brings us to a crucial point. Physically abusive behaviour, which is now so common in mainstream plays, can hardly make the cut according to Feroze's new scope of work.
"Look, people make mistakes," he says, perhaps implying that in the past he may have indulged in a problematic TV show or two. "But they learn from those mistakes also. Repeating those mistakes makes you a horrible person, but if you own up to them and learn from them, that's what makes a great personality.
I also believe that mistakes should not define your future. It's okay to learn from them and it's okay to carry them with you."
"I've heard a lot of bad things about myself," he furthers. "But I feel that if people are talking about you, mostly with negative connotation, it means you're a threat to them. There are others (he says referring to the media) who talk about you because it gets them numbers. But people can talk; if it runs their kitchen then so be it."
It would be impossible to have a conversation with Feroze and his new journey without acknowledging all the rumours surrounding his personal life, especially about his marriage. Normally, huge events that alter the course of our lives lead us to a more spiritual path; it must be difficult for one to continue with work and life while constantly reading opinions on each and every decision you make. But Feroze answers the question tactfully, without going into detail, again.
"I don't let it bother me because once you've decided to detach yourself from worldly affairs, all these opinions and rumours start to matter less," he says. "So if people want to talk, let them. Like I said, if it runs their kitchens, then so be it."
He may have learnt how to ignore unconstructive noise, but that's not to say that he thinks it's okay and should go ignored. "Just because someone is famous, it does not give others a right to speculate and discuss their personal lives. Also because 99% of people don't even know what's going on in your life, they don't even know the full picture."
From his first drama through the countless he has done over the years, from his debut film – Zindagi Kitni Haseen Hai – to the next (Tich Button) that awaits the opening of cinemas and to Khuda Aur Muhabbat 3, that mysteriously still does not have a release date, Feroze Khan's career has been a rollercoaster ride up until this point. With the actor braving many highs and lows, he says he couldn't be more happy with where he stands today. "If it were up to people, my career would have been finished because people can't stand to see other people happy. But God has been very kind. All I can do is be thankful and grateful for every opportunity that has come my way."
Read More...