7th Sky Entertainment's Aye Musht-e-Khaak raises the bar by promoting high moral standards
– GLOSS ETC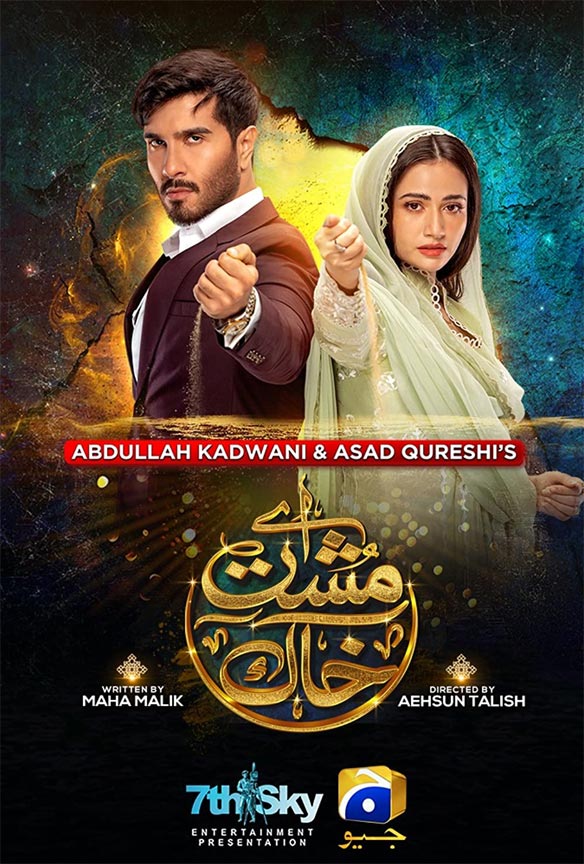 The hero and heroine raise their hands in prayer as the drama culminates into a happy ending. 7th Sky Entertainment's hit Aye Musht-e-Khaak wrapped up earlier this week on Geo Entertainment, delivering on a much-needed happy ending for the long-suffering Mustajab and Dua. The last episode trended promptly, even across the border in India, and the audience cheered, as can be seen from the YouTube comments accompanying the episode.
Finally, Mustajab and Dua, aka Feroze Khan and Sana Javed, were together. Their differences had been sorted. Many quipped that for once, a Feroze Khan drama, had wrapped up with him getting the girl. But Aye Musht-e-Khaak's journey wasn't just a romantic one. Traversing the transition of a non-believing atheist into a believing Muslim, there were definite spiritual aspects to the drama.
The search for truth and belief and finding faith in God was a very prominent part of the narrative. The story had started off with Feroze enacting the volatile 'Bobby' – arrogant, self-obsessed, with a complete disregard for religion. By the end, Bobby had shrugged away his nickname and was now Mustajab; bearded, humble, thoughtful and devoutly religious.
The drama may have had started off many months ago but the final episode aptly aired in Ramzan – there could have had been no better time for it to do so! The viewership ratings skyrocketed.
Beyond ratings, though, telling a story like this one is indicative of the vision of producers Abdullah Kadwani and Asad Qureshi of 7th Sky Entertainment. TV dramas are dominated by romances and stories of domestic politics and thought-provoking content is rare. Channels, perhaps, worry that moralistic stories will end up being too much like sermons. Moral values may form a part of storylines but they are hardly ever the driving force behind them. Aye Musht-e-Khaak, however, is a spiritual narrative first and foremost.
The fact that the drama has been a hit through and through shows that a story based on value systems, told expertly, can resonate well with audiences. Producers Abdullah Kadwani and Asad Qureshi and director Aehsun Talish must be credited for steering the storyline so well. Their ensemble cast also acted very well, particularly Feroze Khan, Sana Javed, Asad Siddiqui and Iffat Omar.
Feroze Khan must be mentioned here especially. The actor was the target of multiple memes during Aye Musht-e-Khaak's initial episodes, where he stomped, screamed and went haywire as Bobby. He astutely remained quiet, allowing social media to have a field day, because he knew that he was going to bowl over audiences later with his transformation. Feroze's acting in the last few emotionally grueling episodes was particularly impressive.
Sana Javed, one of the country's most talented young actors, also held her own. Asad Siddiqui stood out as Sana's restrained, wise twin brother.
Taking on stories with a difference, retaining their entertainment value while pushing forward better moral standards, is an exceptional precedent set by Abdullah Kadwani and Asad Qureshi. Even in the past, the producers have often marched to their own drumbeat by taking on scripts with cerebral content; for example, Shehr-e-Zaat, MiratulUroos, Meri Zaat Zarra-e-Benishan, the Khuda aur Mohabbat montage and the currently on-air Dil-e-Momin.
It is a brave move and one that has always brought in ratings while acting as a tool for improving societal moral standards. The vision, skill and knack for storytelling must be applauded. It must also be noted that while it is commonly believed that formulaic storylines revolving around domestic strife yield top viewership ratings, audiences gravitate towards meaningful content as long as it is told well.
Who would think that a romantic drama could end with the hero and heroine sitting together on a prayer mat? And yet, when Dua and Mustajab do so, it all seems to make sense. In its own way, it was a romantic ending, a meaningful one.
The ending was all the more impactful, aired out in a month when many of us invest more time in prayer. I am told that it is just a coincidence that Aye Musht-e-Khaak wrapped up in Ramzan. Even beyond Ramzan, though, stories and messages like these break new ground and are always remembered.
Read More...