7 Reasons why we are SUPER EXCITED to watch Khuda Aur Mohabbat 3!
– DIVA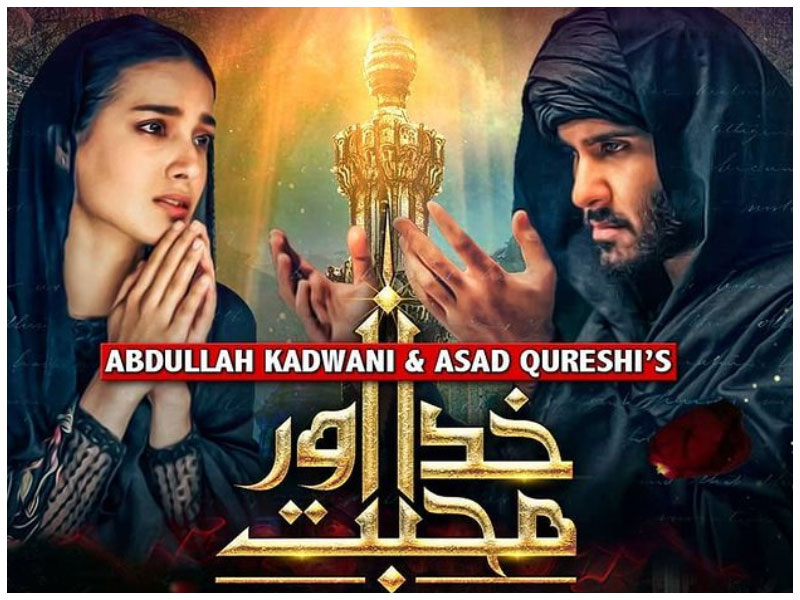 Ever since the first look of 7th Sky Entertainment's magnum opus, Khuda Aur Mohabbat 3 dropped, our excitement knew no limits. The intriguing trailer, the star-studded cast, and the soulful OST of the trilogy series has already kept the buzz high. It's time to witness the grandest spectacle of the year as Khuda Aur Mohabbat 3 premiers on February 12, 2021. So scroll below and check out the top 7 reasons why we can't afford to miss this spiritual-love saga.
1. Reunion of Sorts
The project marks the reunion of 7th Sky and Feroze Khan. The dream team has earlier given hits like Khaani, Romeo Weds Heer, Dil Kya Karay, and a couple of successful telefilms. Khan's collaboration with the production house has fetched him immense growth as an actor. He recently took to Instagram and wrote a heartwarming note for Abdullah Kadwani and Asad Qureshi for their earnest efforts to materialize the project on a grandiose scale. We hope Khuda Aur Mohabbat 3 will be a potential game-changer.
2. Feroze and Iqra's Sizzling Chemistry
Ever since the news of Iqra Aziz and Feroze Khan pairing up for Khuda Aur Mohabbat 3 surfaced, we all have gone bonkers! At its core, it's a story of a man and a woman and their forbidden love. The premise seems to be intense and requires actors who could perform flawlessly. Undoubtedly Iqra and Feroze hold talent to go to any extent to make their characters look as real as possible. We hope their acting chops will enthrall the viewers like never before.
3. The Opulence  
Abdullah Kadwani and Asad Qureshi are well known for backing their projects with lavish budgets and state-of-the-art technology. Every frame of the Khuda Aur Mohabbat 3 screams opulence. Mammoth sets have been constructed across Karachi, Bahawalpur, and Multan. The splendid 4k camerawork looks gorgeous, artistic, and matches international standards. The jewelry, costumes, and mannerisms will make your jaw drop. It promises to leave a lasting visual experience on its viewers.
4. The Soulful OST
A good OST not just acts as a force to attract viewers but also evokes emotions, and Khuda Aur Mohabbat 3 is no less. Crooned by Rahat Fateh Ali Khan and Nish Asher the soundtrack has already become a massive hit. It weaves magic and we are already hooked. For the unversed, the OST had set a record of 1 million views within fifteen hours of its release.
5. The Director's Charm
Interestingly, Khuda Aur Mohabbat 3 also marks the reunion of 7th Sky and the director, Syed Wajahat Hussain, for the fifth time. The maverick director has earlier aced projects like 'Khali Hath', 'Yariyaan', 'Marzi' and 'Silsilay'. Hussain is widely hailed as a master in taking the dramatic experience to a whole new level. Since his previous outings were such a delight, hopes with this one is quite high.
6. The Power-Packed Script
One of the major components of a good drama is a good story. And when you have the legendary Hashim Nadeem on board, the name itself carries weight and guarantees success. His poetic, deep, and dark resume tends to be grounded in a semblance. With Khuda Aur Mohabbat 3, he comes with a bundle of moments that promise to deliver solid drama.
7. Powerful Ensemble cast
The success of any project hugely depends on getting the right people for the job. Especially in a big project with strong lead actors; the supporting actors need to be good. And they are! Khuda Aur Mohabbat 3 boosts a massive star cast that includes credible names like Junaid Khan, Javed Sheikh, Hina Khawaja Bayat, Tooba Siddiqui, Sunita Marshall, Zain Baig, Mehar Bano, Rubina Ashraf, Asma Abbass, Usman Peerzada, Seemi Pasha, and Sohail Sameer.
Read More...