7 Reasons Why Jhoom Is Sending Out 'Very Watchable' Vibes On Our Watchlist!
– FUCHSIA MAGAZINE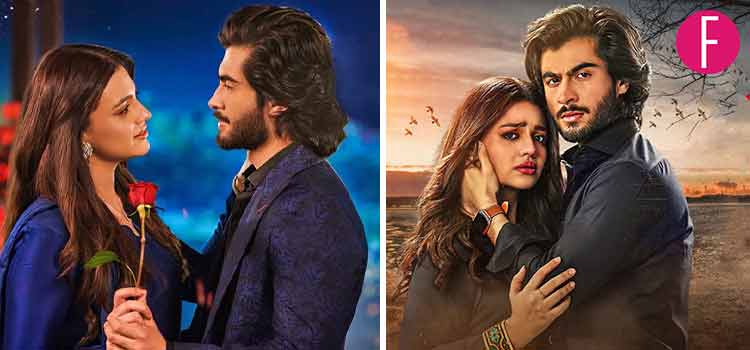 Drama Jhoom is sending out 'very watchable' drama vibes and we give you 7 reasons why we think so!
If you're contemplating the new drama season and already done with the old, don't be. Because there's one drama we recommend you watch, if only for the story, execution, performances, young feels, action, thrill, drama, … did we mention story? Jhoom might just have kicked off a few episodes ago but it seems to be hitting the right notes in the 'watchable' department as it negates all the reasons why things go south in a narrative and we often give up on a once promising drama.
Here's 7 reasons why Jhoom is creeping up on our watchlist!
1. Credible Action Sequences
Well executed, fast paced and believable – Jhoom keeps you on the edge of your seat with zero slo-mos for fillers. From when Aryaan fights off Sherry and his friends at the chai dhaaba to Aryaan and Sherry engaged in a fist fight, pulling punches, kicks and more, the drama delivered sharp action, unlike its predecessors. Action sequences are not the best in Pakistani dramas (unless its the proverbial, or real thappar which we ace everytime), but jokes apart, the thrill is real.
The screenplay has come under criticism for drawing too much blood, but we feel the depiction justifies the narrative and hence, well placed so far.
2. Refreshingly Un-cliched Story
The female lead has been in a previous relationship & we're okay with it (including the hero). She also holds a successful career & we're okay with it (including the hero). It is so breathable to move past the past relationship drama we often see unfold onscreen. The story progresses in a progressive manner as both leads come to terms with their past and Dr Maryam explains the reason for her failed past relationship, which Aryaan digests like a mature human being, and not a forever insecure desi mard. Do we sound a tad judgemental?
Not us, it's the Pakistani drama fan in us talking … let's get on with the rest of the story then.
3. Much Needed Social Messages
From younger boy falling for a slightly older girl, to obeying the law even if it's a family member who's life is on the line, Jhoom might be a reel life drama but mimics real life situations where families have often protected their next-of-kin from law enforcement agencies even when they know they are the guilty party. Here, we're happy to note that Maryam's character sets a new benchmark.
It is interesting when the narrative makes us place ourselves in a similar situation and question what we would do if we were the character? That's when we know the performances and story have hit the mark. With Maryam's decision to turn in her brother to the police, a fine example was set. It might have been a tad idealistic but it also made us question if we would be strong enough to take such a courageous, upright action. It's all good talk from a distance, but although Maryam sets goals that might not be all too real (life has shown us otherwise in many instances), but need to be applauded.
4. All Round Performances
Both male and female leads as well as the ensemble cast is turning out engaging performances. Zara Noor Abbas is a seasoned actor who has proven time and again that she can carry off onscreen chemistry with any actor like a pro. Her co actor – Haroon Kadwani too, is pulling off his own moves and together the couple are turning on the romance quotient in a story that needs a well matched pair to pull it off, and we think they're hitting it off well so far.
Often it is the ensemble cast that needs a push, but we have to say that Ahmad Majeed Agloria aka Sam, Reham Rafiq aka Tina, Naureen Gulwani aka Mahlab and Haris Waheed aka Sherry as well as Usman Peerzada (the main ensemble cast we've seen so far onscreen) are doing a credible job to add value to the narrative. Makes the venture more watchable really, the support cast can make or break a story for sure.
5. Deconstructing The Angry Young Man Avatar
Angry young man is an overdone story line but here Jhoom takes a different route by confronting the problem head on and not romanticizing anger issues within the male lead, yet, keeping the chemistry alive between Maryam & Aryaan. Aryaan is shown to have anger issues at the outset. However his anger is not misdirected at any random bloke crossing the street but usually, a person who strays from the path, misbehaves or engages in wrongful actions. hence, there is a saving grace to that behaviour which he recognizes is wrong, by the way, and struggles to keep in control.
In short, the anger has not been romanticized to sell as a desirable hero quality, rather it must be tamed if he has to meet his heroine halfway!
6. Fast-paced Story telling
Jhoom airs twice a week and both episodes do not short change viewers into watching a stretched, stagnant story line. The narrative moves forward at a pace that is neither too fast and neither too slow. And events transpire in a manner that makes us want to know what happens next, yet, gradual enough for us to take in the developing story and enjoy the watching experience.
From romantic encounters, confessions of love inserted in between speedy action sequences and a few, well placed flashbacks, the story moves forward real fast, engaging viewers to keep watching to find out more. Yet, the narrative is not too fast either, we tend to 'get it' at each twist in the drama and have time to hold on to our emotions before moving ahead.
One slight reservation? Professor Tauqeer's talks seem to missing their mark with us as they appear to come off more like a boring University class we just had to attend, nit because we wanted to. We would recommend the messages on anger management are so relevant and perhaps, need an interactive or more innovative approach to leave a lasting impact on young minds – for whom we assume they are majorly targeted.
7. Young Feels
Jhoom send out unmistakeably young feels in a story that depicts gang culture, vaping, weapons, young love, and the perils of entering into a relationship that society judges as age-inappropriate. The challenges are real and relatable, the saas-bahu dynamics non existent (Thank Goodness) and with many outdoor location scenes to break the monotony, the drama carries a youth appeal which many young people might be able to latch on to as a palatable watch!
We recommend you give this one a watch for all the right reasons!
Jhoom the drama airs twice a week – Friday and Saturday, on HAR PAL GEO. It is produced by Abdullah Kadwani and Asad Qureshi under the production of 7th Sky Entertainment. The drama has been penned by Hashim Nadeem and directed by Ali Faizaan. It stars Zara Noor Abbas, Haroon Kadwani, Usman Pirzada, Haris Waheed with an ensemble cast featuring Naureen Gulwani, Zainab Qayyum, Farhan Ally Agha, Javed Sheikh, Reham Rafiq, Ahmad Majeed Agloria, Haroon Shahid, Sidra Niazi among others.
Read More...