5 Reasons Why You Need To Watch Ishq Jalebi Over The Eid Break!
– FUCHSIA MAGAZINE
As I sat digesting my 20th something episode of Bela & Basim's nakaam love story, I thought to myself – hey, this drama is just so rewatchable, so recommend(able) – there I go, making up words again! So relatable in every desi possible way – I can watch it on loop – just like my Spotify playlist!
There, I've said it! I'm totally biased towards Ishq Jalebi as my go to Ramzan drama watch. I can see the Chupke Chupke fans about to scratch my eyes out !
And now I smell blood from the Chupke Chupke camp!
But,
There are reasons to watch BEYOND the Irsa Ghazal factor (although we could end this article right here folks, coz she's reason enough)! But let's give you some more meat on the drama!
1. A Covid-Friendly Reality
The story line hits home with stressing on lockdowns, covid sops (and the lack of them) in a very desi space. It has been proven time and again that our qaum responds to social messages in 2 forms – cricket-based or comedy. The latter approach is a soft approach to highlighting social messages – wear a mask – it's lockdown, stay off the road, quarantine if sick, sanitize as much as possible. Ishq Jalebi has also shown the 'not making a desi big deal about covid till reality strikes' – and taking it seriously, ONLY when reality strikes – all this in a light hearted yet effective manner.
I sincerely hope more people have been motivated to mask up and respect lockdown rules after watching Ishq Jalebi, coz the drama told it as it is. Also, the utilization of the home, from a directorial perspective was great to keep the lockdown theme going. (oh and the police chhaapa at the mehndi was much appreciated as well)!
Both Wajahat Hussain & Saima Akram Chaudhry have done a splendid job in keeping it on point!
2. The Desi Obsession With Your Son's Family
It is light-hearted, yes, but do you see the fine layers? How bau ji leans towards the foreign-returned Vicky as opposed to the local Basim? Agreed, Basim did want to abandon all and settle abroad but he has been the one who's been 'around' for the past 10 years. Ghar ki murghi daal barabar – but maybe, a bit more than that? The daamaad's desire to keep his property intact in case his brothers in law force him out of the house after bau ji? This was sad to contemplate, yet a harsh reality that we've seen play out in real life one time too many!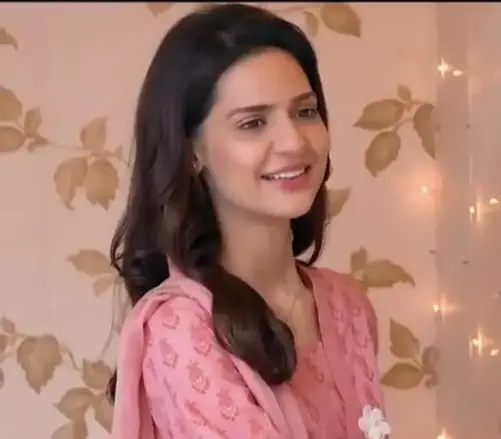 The Jalebi family shenanigans might be a comic-social take on the ground realities of a desi family setup. But the truth is as close to reality, if not more = everyone wants their hissa and unfortunately, the years of service and care might go out the window once a list of legal successors has been drawn up!
Will bau ji gift the house to Bela?
The family politics is not new – we've all seen it. Not just that, but it is stark reminder for those watching to put there house in order before they plan to exit the world. In order to prevent any bad blood amongst your children, perhaps it is wise for elders to lay everything out in the open and clear any misconceptions regarding inheritance?
But in the mean time, tell me, do you think bau ji should gift the house to Bela, and if he does, will his sons turn against him? And, is it fair for your aulad to be left out of the family will? So many questions and we're waiting for the curtain drop on this one!
3. Is it fair to tie up your children at home and not let them seek a future abroad?
Hmmm… that's a tough one! Every successive Pakistani family drama, when it has touched on this narrative, has criticized the role of the son who flew the nest. How dare they settle abroad when home and elders are where it's at?
I am on the fence with this one.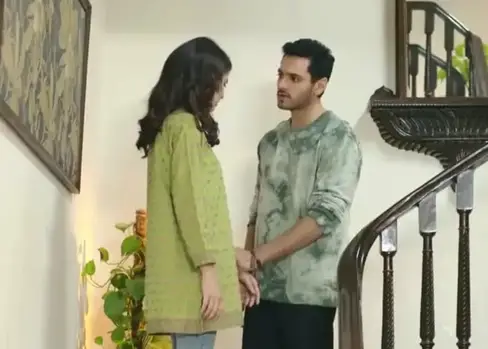 While I really feel we must retain family values, I also feel that elders can be a bit flexible and not clip their off-springs' wings by forcibly tying them down. How about an in between arrangement? Do we have one? Is it possible to not seek greener pastures and happily stay home?
I have witnessed successful (and unsuccessful) cases of this family saga played out in real life. Aging parents left alone is not something I subscribe to, but neither do I believe that children should be forced to give up their dreams – as in the case of Basim.
Give me something here folks, I need guidance here!
4. And finally, the comic element
If all this family politics talk is too intense for you, Ishq Jalebi can be watched on a completely time-pass level – but a worthy time pass that! Watch it for the crisp & comic dialogue, lack of diplomacy in the desi family setup, and cute love feels!
5. A Super Ensemble Cast!
Oh and don't forget to tune in for the lovely Hina Khwaja Bayat and the charming Maryam Noor!
Read More...